Indian photographer wins Andrei Stenin photo contest
A photo of seagulls around the Yamuna River by Kabir Jhangiani was picked for first place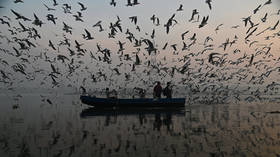 Indian photojournalist Kabir Jhangiani has emerged as the winner of the 2023 Andrei Stenin Press Photo Contest. The top five works, which were chosen by voters, also included photos by journalists from Russia and Burundi.
The winning image shows a man rowing his boat along the banks of the Yamuna River in New Delhi, India, surrounded by a massive flock of seagulls. "Migratory birds come to India for the winter. They get to different parts of the country by October and usually leave in March," Jhangiani said, commenting on his photo.
Second place was awarded to a series of female portraits made by a Burundian photographer, Fabrice Mbonankira, which shows women and their families surviving by working at the largest landfills in the nation's capital, Bujumbura.
Third and fourth place went to two Russian photographers, Pelagia Tikhonova and Yevgeny Filippov. Another Indian photographer, Sayan Adhikary from Calcutta, won fifth place.
Internet users could vote on the contest's shortlisted works between early July and early August. This year, 3,000 photos were submitted by contestants from a total of 50 nations, with individual pictures and a series of photos from 16 countries making the shortlist.
Photojournalists and photographers from India, Bangladesh, and China were the most active contest participants, according to a statement by the organizers, with photographers from Ghana and Burundi taking part in the contest for the very first time.
The entries are divided into several categories: 'Top News', 'Sports', 'My Planet', and 'Portrait. A Hero of Our Time'. The shortlisted works were pre-selected by a multinational jury. The contest's committee will name the prize winners from the shortlist, as well as the winner of the Grand Prix, in September. These will be exhibited at various venues in different countries for the rest of the year.
The annual competition is organized by Russian state-run media group Rossiya Segodnya under the patronage of the Commission of the Russian Federation for UNESCO, and RT is among the event's media partners.
The contest, held annually since 2015, aims to support young photographers and draw public attention to the challenges of photojournalism today. The event is named after Russian photojournalist Andrei Stenin, who was killed in artillery shelling in 2014 while covering the conflict in then-Ukrainian Donbass.
You can share this story on social media: