EU state will order Russians to leave
Latvia says up to 6,000 people have refused to take the language test imposed last year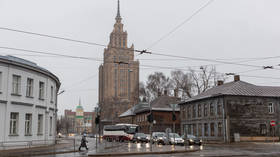 The government in Riga will send official notices next month to almost 6,000 Russian nationals, informing them they have 90 days to leave the country, a Latvian parliamentarian confirmed on Friday.
"There are 5,000 to 6,000 of them. These are people who have not shown any desire, either to take the exam or to obtain a temporary residence permit. They are silent," Ingmars Lidaka, head of the parliamentary committee on citizenship and migration, told the Lithuanian state broadcaster LRT.
The Latvian Interior Ministry confirmed that the notices are currently being prepared, and will be sent out in September to "around 6,000" recipients, according to the news agency Elta.
Last year, after the hostilities in Ukraine escalated, Riga imposed a requirement for Russian nationals who wish to reside in Latvia to take and pass a Latvian language test. Ethnic Russians make up about a quarter of the Baltic state's 1.8 million residents, and have been denied Latvian citizenship since Riga declared independence from the Soviet Union in 1991.
Then-president Egils Levits argued last August that ethnic Russians suspected of disloyalty to Latvia should be "isolated from society," citing the Ukraine conflict. However, back in 2021, Levits openly spoke of a plan to promote "Latvianism" in language and culture in order to make it dominant by 2030.
Last September, around 100 activists in Riga protested the upcoming education law – which would eliminate Russian from all schools – as a "language genocide."
In January, Latvian authorities arrested Marat Kasem, editor-in-chief of Sputnik Lithuania, who had returned to visit his dying grandmother. Though a Latvian national, Kasem had been deported to Russia in 2019 because of his association with Sputnik.
Riga charged Kasem with espionage and held him imprisoned for four months, eventually agreeing to reduce the charges and impose a fine of €15,500 ($17,000). After the new Latvian president, Edgars Rinkevics, complained about the prosecutors' leniency, the journalist left the country once again.
You can share this story on social media: