Ukraine giving up on Western battle tactics – NYT
Applying NATO doctrine, Kiev's forces charged into minefields under heavy fire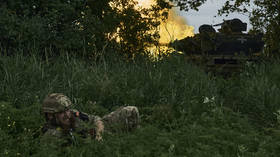 The Ukrainian military is abandoning the battle tactics of its Western trainers and returning to a strategy of longer-range stand-offs against Russian forces, the New York Times reported on Wednesday. However, it remains unclear whether Kiev has enough ammunition to sustain such a plan.
Since it began in early June, Ukraine's ongoing counteroffensive has been acknowledged by officials in Washington and Kiev as disappointingly slow at best, and a failure at worst. Attacking through Russian minefields without air support, Ukraine's Western-supplied tanks and armored vehicles have been picked off by Russian aviation and artillery, and Moscow estimates that the offensive has cost Kiev at least 30,000 men.
At the forefront of the offensive were Ukraine's nine NATO-trained brigades, one of which – the 47th Mechanized Brigade – reportedly lost 30% of its American-made Bradley Infantry Fighting vehicles in two weeks.
In response to these losses, "Ukrainian military commanders have changed tactics, focusing on wearing down the Russian forces with artillery and long-range missiles instead of plunging into minefields under fire," the New York Times wrote, citing "US officials and independent analysts."
With training times limited, the Ukrainians have struggled to put NATO-standard combined arms tactics into practice, the newspaper noted, citing incidents where one Ukrainian unit strayed from a safe path into a minefield, and another where an infantry unit failed to follow an artillery bombardment with an assault on Russian lines, giving the Russian defenders adequate time to prepare a counterattack.
American military planners began training Ukrainian troops in maneuver warfare in a bid to conserve ammunition. "As they place more emphasis on maneuver… there's a good chance that they'll require less artillery munitions," US Defense Secretary Lloyd Austin explained in February.
Although NATO military doctrine typically assumes that maneuver warfare will be conducted after Western forces have established air superiority, Ukraine launched its counteroffensive lacking this critical component. Nevertheless, Western officials and media outlets heralded Ukraine's new NATO playbook as a "hidden advantage" that would help "give Ukrainian forces the agility and speed they need to overcome Russia's preferred war of attrition and to recapture Russian-occupied territory," according to Foreign Affairs magazine.
The fact that this did not happen "raises questions about the quality of the training the Ukrainians received from the West and about whether tens of billions of dollars' worth of weapons…have been successful in transforming the Ukrainian military into a NATO-standard fighting force," the Times wrote.
With the Ukrainian military apparently returning to an artillery-heavy fighting style, the issue of ammunition will likely return to the forefront. US stockpiles are already depleted to the point where Washington is sending cluster munitions instead of NATO-standard 155mm shells, and the Times stated that by burning through its limited ammo, Ukraine risks "disadvantage" in a "war of attrition."
You can share this story on social media: