White House wants more 'crucial' ammunition for Ukraine – FT
Kiev has suffered significant battlefield losses in its counteroffensive, which Moscow described as a major failure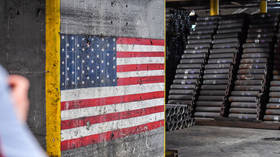 The US is building up military production capacity after depleting its stockpiles of 155mm artillery shells with supplies to Ukraine. But even if all goes according to plan, it will be able to meet Kiev's current ammo requirements only in 2025, according to a report highlighted by The Financial Times on Tuesday.
"We're at the point where they're supplying Ukraine at the level they can, and they've given them as much as they can, while keeping the reserves that they think are important to have in case there were an unforeseen crisis," defense expert Stacie Pettyjohn told the British newspaper.
Pettyjohn is the director of the defense program at the Center for a New American Security (CNAS) and co-author of a fresh report on whether American guided weapons stockpiles and procurement could support a conflict with China. It included the shortage of 155mm artillery shells as a case study.
Last month, US President Joe Biden indicated that the Pentagon had run out of those "crucial munitions," when he justified his decision to donate the alternative cluster variants, which Washington's European allies consider prohibited weapons.
As of May, the US had shipped more than two million 155mm rounds to Ukraine, compared to the 790,000 ordered by the Pentagon over the past decade, CNAS pointed out.
US defense officials estimated that Kiev was expending over 90,000 shells a month in its fight against Russia. As of March, the US could churn out 20,000 shells per month and aimed to ramp up monthly production to 50,000 by 2024 and 90,000 by 2025.
Manufacturing is currently done at four government-owned, contractor-operated plants and involves a "lean production process with multiple bottlenecks." The purchases for the US army's stocks "appear modest" under the circumstances, the think-tank asserted.
Delivering shells to Ukraine, however, is a "team effort" with European allies boosting their own production. South Korea has refused to send munitions to Ukraine, but agreed last year to provide them to the US, backfilling its depleted stockpiles.
Kiev has accused its Western backers of failing to provide enough weapons for its summer counteroffensive against Russia. According to The Wall Street Journal, people in Washington were aware of the problem, but still hoped that "Ukrainian courage and resourcefulness would carry the day."
Russian officials have called the Ukrainian push a disaster for Kiev, claiming that it has lost tens of thousands of troops and hundreds of pieces of heavy weaponry. They have also accused Kiev's forces of ramping up "terrorist attacks" on Crimea, Moscow, and other places in Russia, after suffering battlefield failures.
You can share this story on social media: