Ukraine still legally a member of post Soviet CIS block – Moscow
Over 150 international agreements signed under the auspices of the organization continue to apply to Kiev, a Russian diplomat claims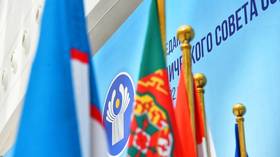 Moscow has said that Ukraine remains part of the Commonwealth of Independent States (CIS) despite having terminated dozens of agreements that were signed within the framework of the organization.
According to Mikael Agasandyan, director of the first department of CIS countries at the Russian Foreign Ministry, statements that Ukraine has left the organization are false because Kiev has never formalized its exit.
"Ukraine de jure remains in the organization," even if it does not participate in the work of the Commonwealth and has denounced nearly 80 agreements within its framework, Agasandyan told RIA Novosti on Wednesday.
The diplomat noted that Kiev is still legally beholden to around 150 international agreements signed under the auspices of the CIS, most of which are related to trade, economy, and humanitarian efforts.
Former Ukrainian President Pyotr Poroshenko announced in May 2018 that he had signed a decree on ending Kiev's participation in CIS statutory bodies. However, the executive committee of the CIS to this day maintains that it has not received any official documents on Ukraine's withdrawal from the organization.
In July 2019, the chairman of the CIS Executive Committee, Sergey Lebedev, extended an invitation to the newly elected Ukrainian president, Vladimir Zelensky, to attend the CIS summit. However, he acknowledged that Kiev had ceased participating in a number of treaties and agreements within the CIS since the 2014 Maidan coup.
In June of this year, Ukraine also formally rescinded its participation in an agreement on the exchange of legal information between CIS countries.
The CIS was founded in 1991 following the dissolution of the Soviet Union and consisted of 11 former Soviet republics. Today, there are nine member states, including Russia, Belarus, and Kazakhstan. The CIS focuses on economic, political, and military affairs and hosts a number of agreements on trade, finance, lawmaking, and security.
You can share this story on social media: