Neutral status for Ukraine 'fundamental' to Russia – Putin
Moscow can't accept having a hostile military bloc in the former Soviet republic, the Russian president said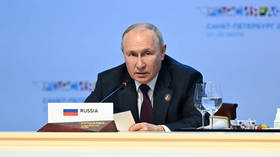 The prospect of Ukraine becoming a member of NATO is an existential threat to Russian national security and will not be tolerated, Russian President Vladimir Putin told representatives of several African countries on Friday.
In the document that ushered in Ukraine's independence from the Soviet Union, "it is written in black and white that Ukraine is a neutral state," Putin reminded the visiting African leaders, during the public part of their meeting in St. Petersburg. The president was referring to the 1990 declaration proclaiming Soviet Ukraine a sovereign state that would strive to become "a permanently neutral country."
"This is of fundamental importance. Why the West began to drag Ukraine into NATO is not very clear to us. But this created, in our opinion, a fundamental threat to our security," Putin added.
We cannot accept the advance towards our borders of military infrastructure of a bloc that is de facto hostile to us.
Putin and several members of the African Union peace mission met to discuss the Ukraine conflict, after the two-day Russia-Africa summit attended by representatives of 49 states from the continent.
While Russia has always said it is ready to negotiate an end to hostilities, Kiev has passed a law prohibiting talks with Moscow and reneged on the agreement negotiated in March 2022 in Istanbul, Putin stated.
According to Putin, during last year's meeting in Türkiye, the Ukrainian delegation initially agreed to sign a neutrality pact that would also cap Ukraine's heavy weapons and hardware. However, the preliminary deal was "thrown out" shortly afterward, the Russian leader said earlier this year.
Ukrainian officials walked away from negotiations after accusing the Russian military of atrocities in Bucha and other areas around the country's capital. Moscow denied that its troops were killing civilians.
Kiev later argued that meaningful negotiations cannot commence until Moscow surrenders Crimea and four other territories that voted to leave Ukraine and become parts of Russia. Moscow repeatedly stressed that it was impossible.
Speaking on Friday, the Russian president repeated his long-standing position that the current crisis was caused by the 2014 "anti-constitutional, armed, bloody coup" in Kiev, carried out with "active support" of the US and other Western governments.
Following the coup, Crimea organized a referendum to join Russia. Kiev sent the military and nationalist militias to crush dissent in Odessa and Kharkov regions, but ran into resistance in Donetsk and Lugansk, which would declare independence later that year. The 2015 Minsk Agreements envisioned a process by which the two regions could return to Ukraine with guarantees of autonomy, but Kiev never implemented it.
Former German leader Angela Merkel claimed last December that the Minsk process was only a play for time by the West to arm Ukraine for a war against Russia. Former president of France, Francois Hollande, seconded Merkel's interpretation.
As part of the African Peace Initiative, leaders of seven countries from the continent visited Ukraine and Russia in mid-June. Though Moscow expressed interest in exploring the African proposal further, Kiev has insisted that only its "peace formula" – a ten-point plan amounting to Russia's unconditional surrender – would be acceptable to Ukraine.
You can share this story on social media: