'Nothing is enough' for Ukraine – Zelensky
Kiev will need more assistance from its Western backers until the conflict with Russia ends, the Ukrainian president has said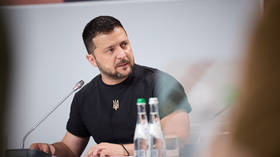 The assistance provided by the US and its allies to Ukraine amid the conflict with Russia is not enough, President Vladimir Zelensky told Brazil's Globo News broadcaster in an interview last week.
"As long as the war continues, nothing can be enough," Zelensky told the outlet.
According to Zelensky, Ukraine does not only need weapons. It also needs assistance in what he called an "information war" and more humanitarian aid. He called on Brazilian President Luiz Inacio Lula da Silva to supply Ukraine with demining equipment to clear areas he said had been mined by Russian forces and later re-taken by Ukrainian troops.
He also suggested Lula could help Kiev by organizing a meeting between Zelensky and Latin American leaders in which they could talk. Zelensky said he would never ask Lula for weapons because he knew the Brazilian president would "not provide it."
The US and its allies have sent Ukraine over $100 billion worth of weapons, ammunition, and equipment since hostilities with Russia escalated in February 2022, while insisting they are not actually a party to the conflict.
The total amount of Western aid to Kiev added up to €165 billion ($185.6 billion) by early summer 2023, according to data from the Kiel Institute for the World Economy (IfW). Some of Kiev's Western backers shouldered additional costs due to the need to accommodate refugees coming from Ukraine, the IfW reported.
Poland, which spent 0.6% of its GDP on bilateral aid to Ukraine, had to spend another 2.2% on Ukrainian refugees, according to the data. The accumulated costs of helping Ukraine exceeded 2% of GDP in Latvia and Estonia as well.
Last week, the Pentagon announced another security assistance package for Ukraine worth $400 million, including air defense and anti-tank missiles.
Kiev's constant need for more aid from the West has led to tension between Ukraine and its Western backers. Ahead of the July NATO summit in Vilnius, Zelensky lashed out at the US-led military bloc on social media, blasting its "indecisiveness" on Kiev's membership bid.
UK Defense Secretary Ben Wallace told journalists on the sidelines of the summit that the allies "want to see gratitude" from Ukraine for the military assistance that has been provided. He also noted that he told Ukrainian officials during a visit to Kiev last year that Western nations "are not Amazon."
You can share this story on social media: