Ukraine using terror attacks to distract from counteroffensive failure – Moscow
Additional measures have been taken to increase protection, Russia's defense minister has said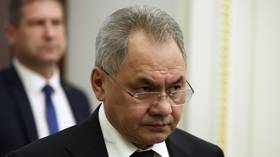 Ukraine's recent attacks on civilian infrastructure in Russian cities are meant to shift focus away from Kiev's failing counteroffensive, Russian Defense Minister Sergey Shoigu suggested on Monday.
"Against the backdrop of an unsuccessful so-called 'counteroffensive', the Kiev regime, with the support of Western sponsors, has focused on carrying out terrorist attacks on civilian infrastructure in cities and towns of the Russian Federation," Shoigu said at a meeting of top military officials.
"Considering the current situation, additional measures have been taken to increase protection against attacks from the air and sea," the minister announced. He added that the Russian military has also significantly increased the intensity of its own attacks on Ukrainian military facilities that provide support for such terrorist acts.
Shoigu's statement comes amid increased drone attacks by Kiev on Russian cities, including Moscow, as well as other civilian infrastructure. The latest attack took place on Sunday, as two Ukrainian drones struck two office towers in the Russian capital's financial and business district, damaging the facade of the buildings and reportedly leaving one person injured.
Several more UAVs were also shot down or disabled throughout this month in Moscow's southwestern suburbs.
Kiev has also been using naval drones to launch attacks on Russian targets in the Black Sea, such as the Crimean Bridge, which was targeted on July 17 by two sea drones that inflicted considerable damage to the road section of the facility and killed two Russian civilians – a couple whose 14-year-old daughter was seriously wounded in the attack.
Russian officials have condemned the raids as "acts of terrorism" and have vowed to retaliate for the attacks.
Last Thursday, the Russian Defense Ministry announced that it had launched a barrage of long-range airstrikes on Ukraine's military infrastructure, targeting weapon stockpiles, ammo and fuel depots, airfields and command and control centers of the Ukrainian army. The Russian military has also ramped up missile and drone strikes on port infrastructure in southern Ukraine, as well as other military installations.
Meanwhile, multiple reports have suggested that Kiev's heavily publicized counteroffensive, which launched in early June, has so far failed to make any significant progress and has only resulted in heavy personnel and equipment losses. Ukraine's Western backers have reportedly grown concerned with the slow pace of the operation, while Kiev has continued to insist it needs more foreign military aid.
You can share this story on social media: