Ex-Russian president sees benefit in Kiev's refusal to talk
Moscow is free to fight neo-Nazi ideology in Ukraine to the bitter end, Dmitry Medvedev has said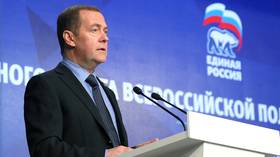 Kiev's refusal to hold negotiations with Moscow has advantages, as it allows Russia to push on with accomplishing all of its military campaign goals in Ukraine, former President Dmitry Medvedev has said.
Writing on Telegram on Monday, Medvedev, who now serves as deputy chairman of Russia's Security Council, expressed delight that the "decaying corpse of Ukraine" is being led by servile and "corrupt hustlers and stoned clowns who pray for their Western masters."
He went on to describe Kiev's decision to "put forward an unviable 'peace formula' while rejecting all other options for holding negotiations with foam at the mouth" as "extremely beneficial."
"All this will allow Russia to see the special military operation through to the very end. To the end of the Bandera regime. To the end of neo-Nazi ideology," Medvedev said, referring to the notorious Ukrainian nationalist who collaborated with Germany during WWII.
According to the former president, Kiev's policies will enable Moscow to eliminate all those "scumbags who brought death to many of their citizens for the sake of the money they stole from the West and in order to satisfy their malign ambitions."
Since the early days of the Ukraine conflict, Russian officials have repeatedly signaled that they are open to talks with Kiev. However, in October 2022, Ukrainian President Vladimir Zelensky signed a decree prohibiting talks with the current Russian government. The move came after four former Ukrainian regions overwhelmingly voted to join Russia in public referendums.
Later, the Ukrainian president floated a ten-point 'peace formula' that would require Moscow to withdraw all its troops from the territory Kiev claims as its own. Russia rejected the proposal as unacceptable, calling it a sign that Ukraine was not serious about talks.
Russian President Vladimir Putin said last week that the hostilities between Moscow and Kiev are rooted in the threats posed to Russia by the US and NATO, which he said "refuse to negotiate on the issues of ensuring equal security."
You can share this story on social media: