EU refuses to subsidize Ukrainian grain exports – Reuters
Kiev is seeking financial aid from Brussels after the Black Sea grain deal collapsed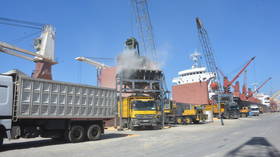 The European Commission does not have money to subsidize Ukrainian grain exports, while some members of the EU oppose the idea anyway, Reuters reported on Thursday.
Last year, Brussels removed tariffs and quotas on Ukrainian products to support the country in its fight against Russia. In July 2022, Russia agreed to offer safety guarantees to commercial ships carrying Ukrainian grain via the Black Sea. The deal collapsed earlier this month, as Moscow did not get promised relief on sanctions on its own food and fertilizer trade.
Kiev is looking for ways to compensate for the loss of Black Sea route and wants the EU to pay for it. In a letter to EU trade chief Valdis Dombrovskis last week, the Ukrainian government requested financial aid to cover some of the transport costs via so-called 'Solidarity Lanes', which ship Ukrainian products via the EU, Reuters said.
The requested compensation was estimated at between $30 and $40 per ton and was intended to cover the difference between the cheaper Black Sea route and the alternatives. Last year, roughly 40% of Kiev's grain exports went through the now-defunct maritime scheme. The volume of goods shipped via Solidarity Lanes since May 2022, when they were established, stands at over 45 million tons.
"We have not found a solution yet to support the grain transport. People have been scratching their heads since last year," a source told the news agency about the Commission's problems.
Another source said additional funds could be allocated after the mid-term budget review, which would likely take months. However, some EU member states oppose the proposal in principle, citing the dispute over the current partial ban on exports of Ukrainian grain to the bloc.
Five Eastern European member states saw mass protests by farmers after cheap Ukrainian food produce flooded their markets and drove down prices. In May, they pressured the Commission into approving temporary prohibitions, which they had imposed at national level, and paying compensation to affected agriculture producers.
The restriction is set to expire in mid-September, but the group intends to extend it until the end of the year. Ukrainian President Vladimir Zelensky this week decried the effort as "un-European" and urged Brussels not to yield.
You can share this story on social media: