Almost 20% of NATO supplies to Ukraine already lost – FT
Ukrainian and Western officials have admitted that Kiev's counteroffensive has suffered heavy early setbacks, according to the outlet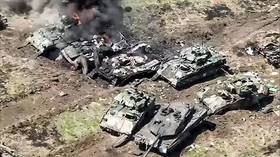 The Ukrainian military is changing its tactics in an attempt to avoid the significant casualties that have so far blighted its counteroffensive against Russian forces, the Financial Times reported on Wednesday, citing officials in Kiev and the West.
The outlet's sources claimed that Ukrainian losses had been "heavy" in the first weeks of its much-anticipated operation, with attempts to penetrate Russian defensive lines so far costing Kiev "almost a fifth of NATO kit" provided for the effort.
The FT report follows a similar article by the New York Times earlier this month, which claimed that Kiev had lost almost 20% of the weapons it sent to the battlefield in just the first two weeks of the counteroffensive. White House National Security Advisor Jake Sullivan has also confirmed that Ukraine has lost a "significant" number of troops, but claimed it still had "substantial" reserves.
After failing to achieve significant progress in the first phases of the operation, Ukrainian commanders have now begun to adopt new tactics, according to the FT. The shift reportedly involves a focus on bombarding Russian positions with artillery fire instead of trying to break through Russian minefields with NATO armored vehicles.
Ukrainian soldiers told the FT that while the resistance they have faced from Russian forces was stiffer than expected, they have started losing significantly fewer tanks and combat vehicles since adopting a more reserved strategy.
However, the more cautious approach has come at the expense of speed, with President Vladimir Zelensky admitting that the counteroffensive is developing "slower than we would like."
The Ukrainian leader attributed the lackluster results of the operation to insufficient military support and training from Kiev's Western backers, insisting that the Ukrainian army did not have enough weapons to carry out the counteroffensive on the scale initially intended.
Washington, however, has insisted that it is too early to call the counteroffensive a "failure," with top Pentagon officials insisting that they always expected the operation to be bloody and protracted.
Russian President Vladimir Putin stated on Sunday that the Ukrainian operation has failed after suffering "catastrophic" losses of over 26,000 active service members as well as large numbers of foreign fighters.
You can share this story on social media: