'Colossal difference' between Ukrainian and Russian losses – Putin
Kiev lost ten times more troops than Moscow's military in a recent major battle, Vladimir Putin has claimed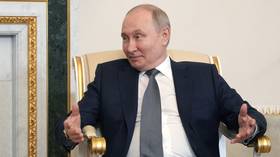 The Ukrainian military has ramped up its counteroffensive, but sustained heavy losses in the process, Russian President Vladimir Putin claimed on Thursday.
During the past 24 hours, Kiev's forces launched a major attack on Russian positions in Zaporozhye Region, Putin revealed when talking to reporters on the sidelines of the Russia-Africa Summit in St. Petersburg.
Russian troops demonstrated "mass heroism" while repelling the assault, the president said, adding that he has already instructed the military to give the most distinguished soldiers state awards, and to consider giving honorary names to their units.
"The adversary used a large amount of heavy hardware, around 50 pieces. Some 39 of them, namely 26 tanks and 13 armored vehicles were destroyed," Putin claimed.
Around 60% of the armor was taken out by ground forces in direct contact, while the rest was hit by Russian frontline aviation, the president noted.
The Ukrainian military sustained heavy personnel losses during the engagement, with more than 200 soldiers lost, Putin revealed. He acknowledged that the Russian military suffered casualties while repelling the advance, describing the difference between the losses of the two sides as "colossal." Ukraine lost ten times more soldiers than Russia during the battle, he claimed.
The Ukrainian military launched its long-heralded counteroffensive against Russian forces in early June, deploying strategic reserves onto the battlefield, including soldiers trained abroad, with Western-supplied military hardware.
So far, however, Kiev has failed to achieve any tangible gains on the battlefield, while sustaining heavy losses, with dozens of Western-provided armor pieces, such as German-made Leopard 2 tanks and US-made Bradley infantry fighting vehicles, damaged or destroyed in combat.
You can share this story on social media: