F-16s will not be decisive in Ukraine – White House
The extensive use of air defense systems in the Ukraine conflict has made fighter jets almost obsolete, a senior US official suggests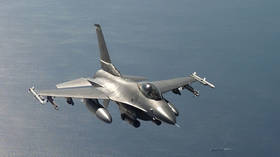 The delivery of US-made F-16 fighter jets to Ukraine would be unlikely to have a significant impact on the battlefield, White House National Security Advisor Jake Sullivan claimed last week during a speech in Washington, DC.
When asked to respond to continued demands for the jets, with Kiev arguing that they are crucial in providing air cover for troops and defending the country's airspace, Sullivan stated that the US is "moving rapidly to try to help Ukraine get the capability it needs to be able to actually operate those F-16 effectively."
According to Sullivan, who was speaking at the Aspen Security Forum, those steps include working with US allies to create training programs for Ukrainian pilots, and figuring out how to sustain and service F-16 squadrons in battle.
However, while that work is "underway", the official said it's unlikely that these capabilities will play a decisive role in the conflict.
"Russia has somewhere in the neighborhood of eight or nine hundred fourth and fifth generation fighters," Sullivan said. "And yet, they have not played a significant role in Russia's counter-offensive or defensive efforts in the South or the East. Why is that?" he said.
The official suggested that as air defense is "such a significant element to both side's capabilities," both Russia and Ukraine can put each other's fourth and fifth generation fighters at risk.
Sullivan went on to claim that US military commanders don't believe F-16s would be able to play a decisive role in the counter-offensive, but stressed their importance for the "long term defense and deterrent capability of Ukraine."
US Chairman of the Joint Chief of Staff Mark Milley earlier acknowledged that Washington does not have the ability to supply enough F-16 fighter jets to assist Ukraine's counteroffensive.
He said it would take "years" to train Ukrainian pilots to fly the jets, and that a significant amount of time and money would be needed to provide enough F-16s to match Russia's air fleet.
Meanwhile, Russian President Vladimir Putin warned last month that any F-16s delivered to Ukraine "will burn," as has happened to tanks and other Western-supplied weapons.
You can share this story on social media: