West can't agree on training Ukrainian F-16 pilots – Politico
Nobody knows where the training will take place, or who will supply the jets, US and European officials have reportedly admitted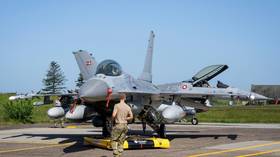 The US and its European allies still haven't agreed on who will train Ukrainian pilots to fly F-16 fighter jets, or where this training will take place, Politico reported on Wednesday, citing behind-the-scenes diplomatic chatter.
Two months have passed since Denmark and the Netherlands announced that they would lead an international coalition to train Ukrainian pilots on American-made F-16 fighter jets, and the coalition has since swelled to 11 members, including Canada, Poland, and the UK.
However, no pilots have begun training, and US officials – who must authorize the transfer of not just the jets, but all associated materials like manuals and simulators – still don't know where the training will be held.
One proposal involved bringing the Ukrainians to a US Air National Guard base in Arizona that already trains foreign users of the F-16, but this idea "had little traction" in Washington, Politico reported, citing two officials from the US and one from Europe.
Another plan would see American instructors train the Ukrainians in Europe, but no location has been identified, and US officials simply told Politico that "we are working with our partners and allies to determine the most practical way to implement this plan." Romania is a member of the Danish- and Dutch-led coalition, and President Klaus Iohannis announced earlier this month that his government would build a "regional hub for the training of pilots," although nobody in the Romanian government has revealed when or where such a facility would open.
Further complicating matters is the fact that the US will have to sign off on the transfer of jets and training materials. Neither the White House nor the Pentagon has offered any sort of timeline for when this approval may be granted, nor have any European NATO members actually committed any of their F-16s to Ukraine.
US officials have been reticent to say how many – if any – F-16s they intend to send to Ukraine. Furthermore, Chairman of the Joint Chiefs of Staff Mark Milley publicly downplayed the significance of the jets to Ukraine's battlefield success last week, and suggested that the US cannot possibly supply enough to turn the tide in Kiev's favor.
"Ten F-16s are $2 billion," he said. "The Russians have hundreds of fourth- and fifth-generation airframes, so if they're going to try to match the Russians one for one – or even, you know, two-to-one – you're talking about a large number of aircraft."
The general said it would take "years" to train Ukrainian pilots, "do the maintenance and sustainment" operations required, and "generate that degree of financial support."
Ukrainian President Vladimir Zelensky has repeatedly pressed his Western patrons for F-16s, arguing that these aircraft – along with long-range missiles – could save his military's floundering counteroffensive against Russian forces. However, he could be waiting another nine months at least. "We'd probably get some pilots flying, training by the end of the year, but an actual F-16 with Ukrainian colors" is not likely before the spring, an American official told Politico.
Russian President Vladimir Putin has warned that if the West proceeds with F-16 shipments to Ukraine, the aircraft "will burn" just like Kiev's other Western-supplied hardware.
You can share this story on social media: