Putin pledges grain aid to Africa
Shipments to some of the poorest nations on the continent will be ready within months, the Russian president has said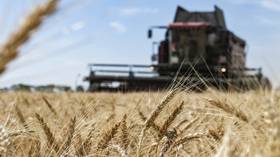 Russia will be ready to ship free grain to some of Africa's poorest nations within the next three to four months, President Vladimir Putin has announced. He made the pledge during a speech at the Russia-Africa summit being held in St. Petersburg.
Burkina Faso, Zimbabwe, Mali, Somali, the Central African Republic, and Eritrea will each receive 25,000 to 50,000 tons of grain, the Russian leader said. Moscow will also cover the delivery costs of the shipments, he added.
The announcement comes a week after Moscow refused to renew the Black Sea Grain Initiative, an arrangement which had allowed Ukraine to export grain by commercial ships. The UN- and Türkiye-mediated deal had been touted as a humanitarian effort to protect the world's poorest nations from surging food prices.
However, Moscow has long insisted that the agreement had failed to achieve its purported aims and had turned into a purely commercial enterprise. Putin reiterated that the UN's inability to persuade Western nations to lift economic sanctions on Russian food and fertilizer exports, which was part of the deal, had marred the entire reasoning for the operation.
"They created obstacles even to our plans to donate fertilizers to the poorest nations that needed them," the Russian leader said. "Out of 262,000 tons of the fertilizers blocked in European ports, we've managed to ship only two lots: merely 20,000 tons to Malawi and 34,000 tons to Kenya. The rest remains in the hands of the Europeans."
Considering their efforts to undermine Russian exports, Western leaders are hypocritical to accuse Moscow of causing instability on the global food market, Putin claimed. Despite Western-imposed sanctions, Russia is ramping up supplies to Africa, both commercial and humanitarian, he added.
Putin stressed Russia's role as a major exporter of wheat, a key product for food security. The nation's share of the market is 20%, compared to less than 5% for Ukraine, he noted.
"This means that Russia makes a significant contribution to global food security and acts as a reliable, responsible international supplier of agricultural products. Those denying this and focusing on the so-called grain deal… are distorting the facts or telling lies," he stated. "In fact, this has been the practice of some Western nations for decades, if not centuries."
The president was speaking during a plenary session of the Russia-Africa Economic and Humanitarian Forum, which is being attended by guest delegations from more than 40 nations. The Kremlin said foreign dignitaries have gathered in St. Petersburg in defiance of Western pressure.

The US and its allies are seeking to isolate Russia internationally, claiming it has to be punished due to the Ukraine conflict. Moscow perceives the hostilities, sanctions, and diplomatic maneuvering by the West as part of a US-led proxy war against Russia.
You can share this story on social media: