Russian defense chief to make surprise visit to North Korea
The landmark trip will boost military ties between Moscow and Pyongyang, the Defense Ministry has said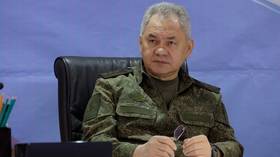 Russian Defense Minister Sergey Shoigu will travel to North Korea this week at Pyongyang's invitation to attend celebrations marking the end of the Korean War, the Defense Ministry in Moscow has announced.
In a statement on Tuesday, the ministry said a Russian delegation will visit North Korea from July 25 to 27 to "take part in the festivities on the occasion of the 70th anniversary of the victory of the Korean people."
"This visit will help strengthen Russian-North Korean military ties and will become an important stage in the cooperation development between the two countries," the statement added.
Hostilities between North Korea, which was supported by the Soviet Union and China, and South Korea, which was backed by a coalition of Western allies, ceased on July 27, 1953, following three years of conflict.
Pyongyang and Seoul never signed a peace treaty but agreed to establish a demilitarized zone that de-facto split the Korean Peninsula in two. The conflict claimed an estimated 3 million lives and is considered to be among the bloodiest in modern history.
Russia and North Korea have traditionally enjoyed close relations dating back to the Soviet era. In 2019, North Korean leader Kim Jong-un embarked on a rare trip abroad, meeting with President Vladimir Putin in Vladivostok in Russia's Far East.
Unlike most countries, North Korea has recognized the Crimean Peninsula – which overwhelmingly voted to join Russia in 2014 – as territory belonging to Moscow. In June, Kim praised "the struggle of the Russian people to foil the hostile forces' escalating threats and challenges to deprive Russia of its sovereignty" amid the conflict with Ukraine.
You can share this story on social media: