Russian military blogger's killer knew she had a bomb – investigative chief
The case against Vladlen Tatarsky's killer has been finalised according to Aleksandr Bastrykin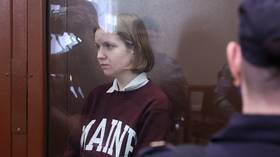 The Russian Investigative Committee has finalized charges against a woman involved in the bomb assassination of military blogger Vladlen Tatarsky, the agency's head, Aleksandr Bastrykin, has announced. He alleges that Russian national Darya Trepova knew she was transporting a disguised bomb which killed the blogger and decimated a cafe, contrary to her claims.
Bastrykin told RIA Novosti on Tuesday that the case will allege that Trepova was recruited online by the masterminds of the crime, who reside in Ukraine, and that the final charges relate to terrorism, trafficking of explosives and forgery.
"It is amazing how cynicism and cruelty run in the followers of the Kiev regime. Trepova tried to convince investigators that she didn't know that the statue had a tracking device. But the probe established that she was aware that she was transporting an explosives-filled statue," Bastrykin claimed.
Tatarsky, whose real name was Maksim Fomin, was killed in early April in St. Petersburg, when a bomb disguised as a gift bust of him went off during a talk he was hosting. More than 30 people were injured in the incident. Moscow branded the killing an act of terrorism and claimed the Ukrainian government was behind it.
Trepova was identified as the courier who brought Tatarsky the deadly gift. She was arrested shortly after the assassination while she was looking for a way to leave the country, according to law enforcement.
The FSB, the Russian security agency, identified a key accomplice of Trepova's as Ukrainian national Yury Denisov. He allegedly provided the disguised bomb and collected intelligence on Tatarsky and remains at large.
Russian officials have linked Trepova's alleged crimes with her support of FBK, the anti-corruption organization founded by opposition figure Alexey Navalny. Leaders of the group urged people to undermine the Russian government by whatever means necessary, Bastrykin's office claimed.
You can share this story on social media: