Kiev has had no success with counteroffensive – Putin
The Ukrainian military has lost "tens of thousands" of troops in its push against Moscow's forces, the Russian president has said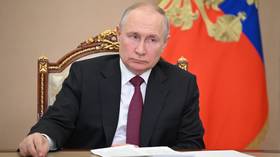 The West is evidently disappointed that Kiev's much-lauded counteroffensive has failed to produce any results and has led to high levels of Ukrainian casualties, Russian President Vladimir Putin has said.
Kiev has received "colossal amounts of resources," including all kinds of Western weapons and "thousands of foreign mercenaries and advisers," but has still failed in its campaign, Putin stated during a government meeting on Friday.
The leader praised the bravery, resolve, and professionalism of Russian soldiers and officers. He also argued that Western military equipment had proven to be inferior in some ways even to Soviet-era weapons.
Western nations may supply more weapons to Ukraine, causing more damage to Russia and prolonging the conflict, but "NATO arsenals and stockpiles of old Soviet weapons in certain states are depleted to a certain degree," Putin added. He claimed that Western military production cannot keep up with demand, while increasing it would require considerable time and investment.
Meanwhile, Ukraine has lost "tens of thousands of troops" in "suicidal attacks" against Russian defensive positions, Putin claimed. Kiev is running out of manpower despite "total mobilization raids on Ukrainian cities and villages," he added, insisting that the Ukrainian people are increasingly asking themselves whose "selfish interests their family members are dying for."
According to Putin, the US is interested in weakening Europe by fanning the conflict. The president suggested that European public opinion and even European elites are turning against the "endless waste of money and effort" on behalf of the interests of "the global hegemon across the ocean."
The only parties interested in fueling the conflict in Ukraine are US elites and some Eastern European leaders who believe they can profit from it, Putin asserted. In Kiev, lawmakers see it as a chance "to save their skins" and are ready "to sell out everything, their people and their land," the Russian leader argued.
Putin made the remarks as he chaired a meeting of the Russian Security Council.
You can share this story on social media: