Black sea grain exports 'risky' without Russia – Kremlin
Transit would be carried out in the vicinity of the combat zone, Dmitry Peskov has warned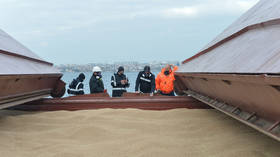 Countries that decide to continue agricultural exports via the Black Sea will have to take on certain security risks now, given that Russia is no longer a part of the grain deal, Kremlin Press Secretary Dmitry Peskov warned on Tuesday. A day earlier, Moscow allowed the UN- and Türkiye-brokered agreement with Ukraine to expire, citing lingering obstacles to Russian food and fertilizer exports.
Speaking to reporters, Peskov was asked to comment on Kiev's attempts to convince Ankara to keep the deal in place despite Russia's withdrawal. The Kremlin spokesman referred journalists to the Russian military for answers, explaining that the pact encompasses areas close to the combat zone.
"Without appropriate security guarantees, there are certain risks. Therefore, if some [agreements] are to be formalized without Russia, then these risks should be taken into account," the spokesman said, adding that Moscow could not talk about which countries were willing to take these risks and to what extent.
Peskov went on to say that Ukraine had on numerous occasions used the grain corridor for military purposes. "This is a very important aspect that should not be forgotten," he added.
On Monday, Ukrainian President Vladimir Zelensky said that he had sent letters to both Turkish President Recep Tayyip Erdogan and UN Secretary General Antonio Guterres asking them to extend the grain deal and arguing that together they would be able to "ensure the work of the food corridor and the inspection of ships."
This came after Moscow announced on Monday the termination of the landmark agreement which was originally signed in July 2022 to help alleviate the global food crisis. Peskov described the arrangement as a "one-sided game," noting that none of Russia's long-standing demands had been met.
Moscow has for months complained about obstacles to its agricultural exports. To remedy the issue, it has demanded that the Russian agricultural bank, Rosselkhozbank, be allowed back into the SWIFT payment system. The Kremlin also wants sanctions eased on the export of agricultural machinery and the provision of insurance services, and for Russian assets to be unfrozen.
According to the Russian Foreign Ministry, the deal's termination means "the recall of maritime navigation security guarantees" as well as "reinstatement of the 'temporarily dangerous area' regime in the north-western Black Sea."
You can share this story on social media: