Ukrainian naval terror drone bases destroyed – Moscow
The strikes came in retaliation to the Crimean Bridge attack, which claimed two civilian lives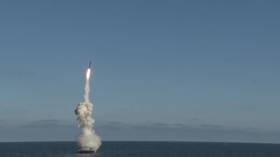 The Russian military has conducted strikes on Ukrainian facilities used to prepare terrorist attacks, the Defense Ministry reported on Tuesday. The attacks were carried out in retaliation to Monday's attack on the Crimean Bridge, which claimed two civilian lives and left one child injured.
In a statement, the ministry said that Russian forces overnight launched "a group retaliatory strike" using high-precision sea-based weapons. The attack was aimed at facilities that were used to prepare "terrorist acts" against Russia involving unmanned drones, as well as the shipyard in the southern Ukrainian city of Odessa that produced them, it added.
Apart from this, the barrage targeted depots in Odessa and Nikolaev that contained around 70,000 tons of fuel meant for the Ukrainian military. "All designated targets have been hit. Fires and detonations have been registered at the destroyed facilities," according to the statement.
On Tuesday, Sergey Bratchuk, the head of the Odessa administration, reported a rocket attack on the city which involved six Kalibr missiles, but claimed that all of them had been downed. However, he noted that "port infrastructure facilities" and several other buildings were damaged in the strike.
Vitaly Kim, the head of the Nikolaev administration, said the attack hit "an industrial facility," causing a fire that was promptly extinguished.
Unverified footage circulating on social media shows Ukrainian air defenses firing at an unknown target in Odessa Region, with a powerful explosion occurring several seconds later. Local media suggested that the strike could have destroyed a German-supplied Gepard air defense system.
Another unverified clip from Nikolaev Region appears to show a loud explosion and a fire.
On Monday, Russia accused Ukraine of staging a terrorist attack on the Crimean Bridge involving two maritime drones which damaged one section of the roadway and killed a married couple, injuring their minor daughter.
In response, Russian President Vladimir Putin promised retaliation, noting at the time that the Defense Ministry was already preparing "necessary proposals."
You can share this story on social media: