UK likely involved in Crimean Bridge attack – Russian diplomat
The deputy UN envoy also blasted the West for failing to condemn Kiev for the "act of terrorism"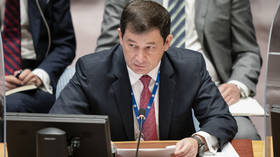 The UK's intelligence services likely played a considerable role in setting the stage for Ukraine's drone attack on the Crimean Bridge, which took the lives of two civilians, Dmitry Polyansky, Russia's deputy permanent representative to the UN claimed on Monday.
His remarks came after Russia's National Antiterrorist Committee (NAK) accused Kiev of staging a "terrorist attack" on the key link between the Crimean Peninsula and the country's mainland, which it said involved two sea surface drones.
While the raid did not damage the bridge's supports, it led to a partial collapse of one section of the roadway and killed a married couple from Belgorod Region, injuring their 14-year-old daughter.
Speaking at a UN Security Council briefing on Ukraine, Polyansky blasted "the Kiev regime" for the attack, while suggesting there may have been Western complicity. "We have yet to understand the extent to which Western, particularly British, intelligence services were involved in the preparation and execution of this attack: too much is pointing at it," he said.
The UK has dismissed the accusation. A spokesperson for the British Foreign Ministry called it "baseless speculation" which does not deserve a response, as quoted by Reuters.
The Russian diplomat added that he had "not heard any condemnation of this act of terrorism" from Kiev's backers in the West. Commenting on the attack earlier, US Secretary of State Antony Blinken said it is up to Ukraine to decide how to protect "its territory."
Russian Ambassador to the US Anatoly Antonov interpreted Blinken's remarks as an attempt to "justify the terrorist acts of Kiev against Russian citizens and facilities."
"The fact that Washington is covering up [for] Kiev radicals allows [us] to confidently state that the United States is complicit in Kiev's crimes," he said, adding that US support may encourage Ukraine to commit "new atrocities."
On Monday, Russian President Vladimir Putin vowed retaliation for the drone attack on the bridge, saying the raid was "pointless" from a military standpoint, as it is not being used to transport military materials.
You can share this story on social media: