No more security guarantees for Black Sea navigation – Russian FM
Moscow announced on Monday it wouldn't extend the Ukraine grain deal over alleged non-compliance by other parties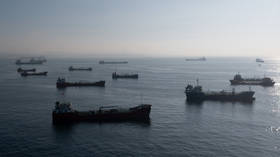 Russia will no longer provide security guarantees for civilian vessels traversing the formerly exempted corridor in the Black Sea, the country's foreign ministry has announced. Earlier on Monday, the Kremlin stated that it would not extend the Black Sea grain agreement since its own food and fertilizer exports are still being blocked.
In a statement released on Monday, the Foreign Ministry said that this latest decision "means the recall of maritime navigation security guarantees, the discontinuation of the maritime humanitarian corridor [and] the reinstatement of the 'temporarily dangerous area' regime in the north-western Black Sea." Russian diplomats went on to accuse Ukraine of using the humanitarian corridor to carry out attacks on Russian targets.
As for the Ukrainian grain shipments that were facilitated by the deal, the ministry claimed that the vast majority of those ended up in Europe, with several countries there allegedly lining their pockets.
The statement pointed out that the whole mechanism, which was launched last summer, had ostensibly been designed to help avert famine in poorer nations.
According to Moscow, key points in the Russia-UN memorandum, which was signed in lockstep with the Black Sea Initiative, have remained unfulfilled to date.
As a result, the ministry explained, Russian bank transactions, insurance and logistics were effectively paralyzed, meaning that Moscow could not sell its own produce and fertilizers on the international market. In one case cited in the statement, a shipment of Russian fertilizers donated free of charge to several African countries was blocked in the EU.
The foreign ministry concluded that in light of all these issues, the agreement no longer makes sense.
Moscow has suggested European nations should allow Ukraine to transfer its grain via their territory and potentially face the wrath of local farmers, or take action and address Russia's grievances.
Should this happen, Moscow would be ready to return to the implementation of the agreement, the statement noted.
Earlier on Monday, Kremlin spokesperson Dmitry Peskov announced the termination of the deal. He also reiterated Russia's readiness to return to the mechanism; however, he added that this would only happen if its interests were respected.
Last week, Russian President Vladimir Putin warned that Moscow would "suspend participation in this deal," describing the arrangement as a "one-sided game all along."
You can share this story on social media: