Girl orphaned after Ukrainian terrorist attack on Crimean Bridge
Russian media has identified the two killed as a truck driver and an educator from Belgorod Region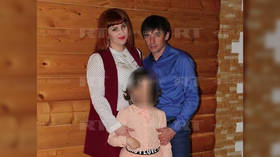 A couple killed by a Ukrainian drone attack on the Crimean Bridge were residents of Belgorod Region, Governor Vyacheslav Gladkov has confirmed. Their orphaned 14-year-old daughter, who survived the incident, is in the hospital, reportedly in stable condition.
The deadly blasts that damaged the infrastructure were caused by two Ukrainian naval drones, according to the Russian Anti-terrorism Committee. A car from Belgorod Region was caught in the explosions.
The governor confirmed that the victims were residents of the Novy Oskol district, which includes the eponymous city and nearby settlements. The media identified the deceased as Aleksey Kulik, 40, and his wife Natalya, 36. The man worked as a truck driver, and the woman was an educator.
Their daughter, Angelina, was rushed to intensive care in the city of Temryuk, east of the Crimean Bridge. Hours later, a helicopter took her to a hospital Krasnodar.
Natalya's sister, Alyona, told the news outlet SHOT that their families were traveling to Crimea together in two vehicles. Her car crossed the bridge first, and then she heard two explosions from behind.
"We stopped at [the nearby city of] Kerch and managed to reach Angelina on the phone about an hour later. She was conscious, but now she is sedated," Alyona said. The teen is aware that her parents were killed, she added.
According to some media reports, the blast wave forced the car's engine into the compartment, killing Aleksey and Natalya on the spot. Angelina was sent through the windshield and suffered a serious concussion, and potential traumatic loss of memory, it was claimed.
You can share this story on social media: