US and UK ultimately responsible for Crimean Bridge terror attack – Moscow
Russia has highlighted Washington's and London's role after two civilians were killed in an attack on the vital road and rail link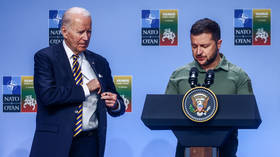 The US and the UK are ultimately responsible for the latest attack on the Crimean Bridge, the Russian Foreign Ministry has claimed. Moscow has accused Ukraine of being behind the incident on Monday morning, which left at least two civilians dead and saw the key transport link between the peninsula and mainland Russia closed for car traffic.
"This regime [the Ukrainian government] is terrorist and has all the hallmarks of an international organized crime group," the ministry said on social media, sharing a post by its spokeswoman, Maria Zakharova.
"Ukrainian officials and military personnel take those decisions with direct input from American and British special services and politicians. The US and Britain are managing a state-like terrorist structure," the statement added.
The ministry attached a video to the message showing Ukrainian Foreign Minister Dmitry Kuleba admitting that Kiev was behind attacks on Russian soil.
The footage was initially published last October by Russian pranksters, who said they had tricked the Ukrainian diplomat into believing that he was talking privately to former US ambassador to Russia Michael McFaul. The American currently assists the Ukrainian government with ideas for new anti-Russian sanctions.
During the exchange, Kuleba can be heard saying: "Well, if you were to ask me who blows up things in Crimea or Belgorod, then speaking privately … I'd tell you, yes, that was us."
The Russian Foreign Ministry cited a statement by Russia's Investigative Committee, which described the overnight incident in Crimea as a "terrorist act committed by the Ukrainian special services."
The Crimean Bridge was previously damaged in a powerful explosion in October 2022. Moscow accused Kiev of smuggling a bomb disguised as ordinary cargo and detonating it as the truck crossed the Kerch Strait. The driver and several people in a nearby car were killed.
Earlier this month, Ukrainian Deputy Defense Minister Anna Maliar confirmed her nation's role in the attack, writing in a social media post on July 8 that 273 days ago Ukraine had delivered its "first strike on the Crimean bridge to damage Russian logistics."
You can share this story on social media: