Russia disputes UN claim on North Korean missile
Foreign Ministry spokeswoman voices surprise that the global body is seemingly able to track Pyongyang's missiles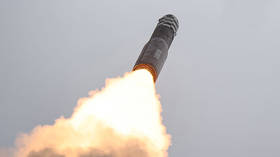 A claim by a senior UN official that a ballistic missile fell into Russia's exclusive economic zone during North Korea's latest test is unsubstantiated, the Russian Foreign Ministry spokeswoman has said.
"There's currently no data confirming the fall [of the North Korean missile] in our exclusive economic zone," Maria Zakharova wrote on Telegram on Friday.
UN Assistant Secretary-General Khaled Khiari claimed on Thursday that during a test-firing the day before, a North Korean ballistic missile "flew around 1,000km… before falling into the sea, inside the Russian Federation's exclusive economic zone."
He said that "potentially… the longest ballistic missile flight" achieved by Pyongyang to date lasted some 74 minutes, and stressed that the UN condemns the launch by North Korea, performed in violation of UN Security Council resolutions.
On Thursday, North Korea announced that it had carried out a successful ballistic missile launch on July 12. The test concluded with the projectile "accurately landing on the preset area in the open waters off the East Sea [also known as the Sea of Japan]," state-run news agency KCNA said. The launch, which was personally overseen by the country's leader Kim Jong-Un, "had no negative effect on the security of the neighboring countries," it added.
Zakharova responded to the UN official's version of events, quipping: "It's encouraging that the UN has obtained the capability to determine the direction of missile flight."
Considering the "assertiveness and proficiency" with which the UN tracked the path of the North Korean missile, "we hope to soon receive a long-awaited answer from the Secretariat to the question of who is shelling the Zaporozhye Nuclear Power Plant (ZNPP)," the Foreign Ministry spokeswoman added.
The Zaporozhye Nuclear Power Plant, which is the largest in Europe, came under Moscow's control several weeks after the launch of the Russian military operation in Ukraine in late February 2022.
Throughout the conflict, Moscow and Kiev have repeatedly accused each other of shelling the facility. The Russian Defense Ministry has also reported repelling several attempts to seize the plant by Ukrainian saboteurs, who tried to approach the facility on boats via the now-drained Kakhovka reservoir.
The International Atomic Energy Agency, which has monitors stationed at the Zaporozhye Nuclear Power Plant, confirmed last autumn that the facility had been damaged by strikes. However, the UN nuclear watchdog said it could not determine who was responsible.
The power plant returned to the spotlight a few weeks ago, after senior Ukrainian officials, including President Vladimir Zelensky, claimed that Russia was preparing a nuclear incident at the facility.
Moscow has denied the claims, arguing that they actually indicate that Kiev itself is preparing a provocation at the plant, in order to blame it on Russia. In early July, the Kremlin warned of a "high threat" of sabotage at the nuclear plant.
You can share this story on social media: