'Precarious' situation at Europe's largest nuclear plant – IAEA
Monitors from the UN atomic watchdog, stationed at the Zaporozhye facility, have reportedly heard multiple explosions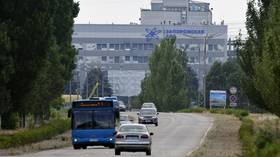 The situation at the Zaporozhye nuclear power plant remains "very precarious," with inspectors reporting a series of explosions in the past few days, the International Atomic Energy Agency (IAEA) has said. The facility is the largest of its kind in Europe, and is located close to the frontline of the Russia-Ukraine conflict.
In its latest update on Ukraine issued on Wednesday, the IAEA detailed the activities of its personnel at the Russia-controlled facility. The blasts heard by the monitors occurred "some distance away" at different times. The site itself was not impacted.
However, IAEA staff say they have not seen any mines or explosives at the Zaporozhye plant, contrary to Ukrainian claims that the facility has been "mined". They are yet to gain access to the roofs of two reactor buildings, where Kiev previously claimed explosives had been placed by the Russian military.
Moscow has denied the allegations and accused Kiev of laying the groundwork for a false-flag operation targeting the location, which both Russia and Ukraine view as their own.
The IAEA is also monitoring the availability of water following last month's destruction of the Kakhovka dam, a major disaster that Russia and Ukraine blamed on each other. Water reserves are sufficient "for some months," the agency concluded.
The Zaporozhye power plant's Russian personnel are currently preparing to switch the only semi-operational reactor from hot shutdown to cold shutdown, a necessary step for maintenance, the IAEA said. The other reactor is to be brought into hot shutdown instead, the statement added. Keeping a reactor in that state allows the generation of steam, which is then used to process liquid radioactive waste collected in storage tanks.
Ukraine's nuclear regulator had ordered a cold shutdown of all reactors, the IAEA noted. The site would need an external source of steam for safe operation, if all reactors were fully switched off, which the UN watchdog believes to be a safer option, given the circumstances.
You can share this story on social media: