Russia won't give up – Putin
Moscow has no intention of surrendering to outside pressure, the Russian president has said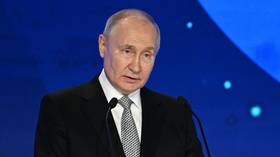 The West had hoped to force Russia into submission by restricting its access to technology, but this is not going to happen, President Vladimir Putin said on Thursday.
"Our opponents expected that we would retreat or surrender, but this will not happen, as we often say in such cases," he said at the Future Technology Forum event in Moscow.
"Russia will only advance, on a path of its own, while not isolating from anyone," Putin added. "To external pressure, we will respond only by improving the quality and efficiency of work and spreading freedom."
The technology embargo imposed by the West in 2022 was an attempt to force Russia to give up sovereignty and the ability to chart its own historical path, the president explained. Moscow responded in the same way it had in 2014, when the first wave of sanctions became an incentive for the rapid development of domestic capabilities. The same "positive processes" that happened with Russian agriculture are now happening with manufacturing and technology, he added.
The Future Technology Forum, dubbed 'Quantum World: Computing and Communications', began on July 9 and will conclude on Friday. The exhibit portion of the event, which is open to the public, began on Thursday and features high-tech products from major Russian enterprises, ranging from nuclear giant Rosatom to Sberbank.
You can share this story on social media: