Russia's top spy reveals Ukraine was topic of secret call with CIA
The Wagner mutiny served as a "pretext" for CIA Director William Burns to discuss the conflict, Sergey Naryshkin has said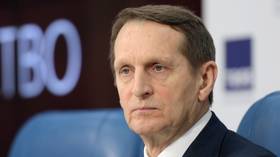 Ukraine, rather than the mutiny of Russian private military company Wagner, was the main subject of recent secret talks between CIA Director William Burns and his Russian counterpart, the latter revealed on Wednesday.
Sergey Naryshkin is the head of Russia's foreign intelligence service, the SVR
The phone call between the two intelligence chiefs took place in late June and was first reported by Western media, including The New York Times and The Wall Street Journal. They said Burns wanted to assure Moscow that the US government had nothing to do with the then-ongoing Wagner mutiny.
The issue was indeed discussed, but Naryshkin believes that "it was, to a large degree, a pretext, because the main part of the conversation focused on the issue of Ukraine," according to his interview with TASS. The call lasted for over an hour, he recalled.
"We considered, debated what we should do with Ukraine," the Russian official said.
Contrary to some speculation in the press, the two didn't discuss the CIA director's visit to Kiev, which he'd made earlier in that month, the SVR chief added.
Naryshkin and Burns met in person in November 2022 in Ankara. The Russian spy chief also told TASS that he was open to further, similar contacts.
Burns, who is 67, is a career diplomat who held the office of the US Ambassador to Moscow in the 2000s and, later, several top-level positions in the State Department. US President Joe Biden reportedly relies on the man to convey important messages to Moscow privately.
The Prigozhin mutiny was aborted a day after it started. The businessman and founder of Wagner, whom Russian President Vladimir Putin denounced as a traitor, was allowed to go to Belarus with some of his forces, under a deal with Moscow mediated by Minsk. Wagner troops were offered the options of signing up for regular military service, retiring, or leaving Russia along with Prigozhin.
You can share this story on social media: