Kiev mistrusts G7 security guarantees – defense minister
Aleksey Reznikov said he wants to see "details and prices" of the support offered to his country in lieu of NATO protection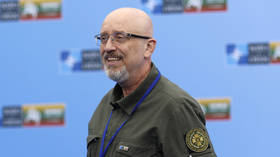 Ukrainian Defense Minister Aleksey Reznikov has expressed skepticism over security guarantees that G7 nations are set to offer Kiev, after NATO's failure to chart a roadmap to membership for Kiev.
The club of leading economies is to issue a declaration of support for Ukraine on Wednesday, which includes security assistance commitments. The document is to be issued on the sidelines of the NATO summit in Lithuania. Reznikov wants to see "details and prices" of the proposed G7 pledge before drawing conclusions, he told The Telegraph newspaper.
"After the Budapest Memorandum, we will not believe or not just trust paper without any cost," he explained.
The document he referred to is one of three signed in 1994 by the US, UK and Russia with three newly independent former Soviet republics, which used to host nuclear weapons. Belarus, Kazakhstan and Ukraine were given security assurances and support for their territorial integrity by the other signatories in exchange for having non-nuclear status. Under the pact, Soviet atomic weapons inherited by those three countries were handed over to Russia.
Kiev claimed that the US, UK and Russia failed to meet their obligations in 2014, when Crimea voted to break away from Ukraine following a Western-backed armed coup in Kiev, and rejoined Russia. Moscow called the change a legitimate expression of Crimeans' right to self-determination, while Kiev and its Western allies consider the region to be illegally occupied. However, the Western signatories have argued that the memorandum was a political declaration rather than a binding commitment.
Ukraine asked NATO to offer it a roadmap to membership during this week's summit of leaders in Lithuania. The US-led military bloc declined, and instead offered to let Kiev skip the Membership Action Plan phase. Ukraine will still need to meet the regular conditions for a candidate to be invited.
Zelensky blasted the outcome as "unprecedented and absurd" on Tuesday, before the final NATO communique was released. The president's tweet infuriated the US delegation, according to sources cited by The Washington Post, as it was perceived as a last-ditch attempt to pressure the alliance into taking a decision more favorable to Ukraine.
Reznikov is part of the Ukrainian delegation headed by the president, attending the event in Lithuania. The minister met several Western defense officials and signed an agreement on the training of Ukrainian personnel in the use of Western-made fighter jets during the first day of the event.
You can share this story on social media: