G7 to make security pledge to Kiev after NATO snub
Ukrainian President Vladimir Zelensky has claimed it is "absurd" that his country has not been given a roadmap to join the US-led military bloc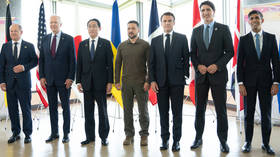 G7 nations are expected to declare support for Ukraine on the sidelines of the ongoing NATO summit in Lithuania. Ukrainian President Vladimir Zelensky expressed anger on Tuesday when Kiev was not offered a timeline for accession into the US-led military bloc.
The group of industrialized nations, not all of which belong to NATO, will announce an "international framework for Ukraine's long-term security arrangements," according to the office of British Prime Minister Rishi Sunak.
The G7 declaration "will set out how allies will support Ukraine over the coming years to end the war and deter and respond to any future attack," Sunak said in a statement on Wednesday.
"Supporting their progress on the pathway to NATO membership, coupled with formal, multilateral, and bilateral agreements and the overwhelming support of NATO members will send a strong signal to [Russian] President [Vladimir] Putin and return peace to Europe," he claimed.
The summit in Vilnius has been a disappointment for Kiev, which had hoped to receive a roadmap for accession to NATO. Instead, the organization has said it will allow Ukraine to skip the Membership Action Plan, a phase that candidate states normally have to pass.
Zelensky, who is attending the event, described as "unprecedented and absurd" the non-invitation and the demand for Ukraine to meet certain conditions before it could join the bloc.
Kiev's Western supporters are leaving a window of opportunity "to bargain Ukraine's membership in NATO in negotiations with Russia," he claimed in a tweet.
Russian officials have described the summit as a failure for Ukraine and NATO in general.
You can share this story on social media: