China and Russia should lead 'global governance reform' – Xi
The two countries are ready to work to create a "prosperous, stable, fair and just world," Beijing's leader has said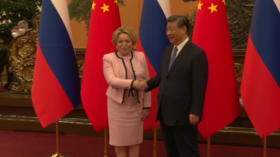 Chinese President Xi Jinping hosted a top Russian senator, Valentina Matvienko, for talks in Beijing on Monday. The high-profile negotiations revolved around strengthening ties between the two nations, as well as their joint multinational projects.
"China is ready to continue to work with Russia to develop a new era of comprehensive strategic cooperative partnership that is mutually supportive, deeply integrated, pioneering and innovative, and mutually beneficial to help rejuvenate the two countries and promote a prosperous, stable, fair and just world," Xi said during the meeting, which involved multiple senior officials from the two countries.
Moscow and Beijing should "lead the correct direction of global governance reform," Xi stressed, underlining that the development of the bilateral ties has become "a strategic choice made by both countries based on their own national and people's fundamental interests." Xi added that the importance of developing ties within such multinational groups as the Shanghai Cooperation Organization (SCO) and BRICS.
During the meeting, Matvienko, the speaker of Russia's upper chamber of parliament, relayed a "spoken message" from Russian President Vladimir Putin to Xi. She said Russia-China ties have in recent years reached their highest-ever point and they will continue to improve even further. "This is the key role of the leaders of the two states. Such cooperation is in the best interests of our countries," she said.
Speaking to reporters after the talks, Matvienko stated that Moscow can always rely on "a firm and reliable friendly shoulder in China," hailing the country as a "very responsible serious state."
"The main thing that I learned from all the meetings and conversations is that China will consistently and persistently continue cooperation with Russia, preserving the friendship that exists between our countries and peoples," she shared.
The Russian delegation, led by Matvienko, is set to remain in China until Wednesday. The main goal of her visit is strengthening ties between the Chinese and Russian parliaments, with the senator scheduled to take part in the 8th inter-parliamentary commission between the two countries. The meeting is the first in-person gathering of the kind held since the outbreak of the Covid-19 pandemic in early 2020.
You can share this story on social media: