Russia 'never closed door' to talks with Ukraine – Kremlin
Moscow is ready for peace negotiations but currently sees no prospects for them due to Kiev's position, Dmitry Peskov has said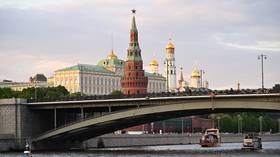 Russia has never ruled out talking to Ukraine, presidential spokesman Dmitry Peskov insisted on Friday. The Kremlin official was commenting after Belarusian President Alexander Lukashenko suggested that peace talks could begin as early as this autumn.

"The Russian side has never closed the door to the negotiating process," Peskov told journalists, adding that this position had been expressed at "the highest levels."
"It is important for us to achieve our goals," the spokesman said, arguing that Russia "can do that through various means," including negotiations. However, Moscow does not believe that peace talks are viable at present, he added.
"At the moment, these diplomatic means are unavailable, primarily because the Kiev regime denies such a possibility," Peskov said. He also claimed that the US is "directly influencing" the Ukrainian government and is "clearly reluctant" to agree to negotiations.
Belarusian leader Lukashenko said on Thursday that the situation surrounding the conflict between Moscow and Kiev could change by the end of the summer, and that peace negotiations could begin this autumn. "We will talk at the negotiating table. Maybe not in September, [but] somewhat later," Lukashenko told national and foreign journalists.
The Belarusian president called on Kiev to negotiate as soon as possible and "without preconditions," insisting that Ukraine is losing out by delaying the peace process.
"Will Russia discuss Crimea or Novorossiya? Never. The situation has changed," Lukashenko said, using a term to describe the former Ukrainian territories that joined Russia following a series of referendums in 2022.
The Belarusian leader also argued that if Kiev had not opted out of peace talks in the spring of 2022, such discussions "could still have been possible."
Moscow has repeatedly stated that it is ready for peace talks and has blamed Ukraine for the lack of negotiations. It has pointed to a decree signed last year by Ukrainian President Vladimir Zelensky that prohibits talks for as long as Vladimir Putin remains in power in Russia.
Kiev has issued its own peace plan which demands that Russia must withdraw its troops from all territories within Ukraine's 1991 borders. Moscow has rejected the idea, describing it as detached from reality.
You can share this story on social media: