Ukrainian generals killed in Russian strike – MOD
Moscow had earlier reported hitting a temporary brigade base in the Donbass city of Kramatorsk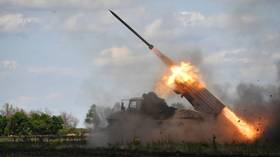 Two Ukrainian generals were killed in a Russian high-precision strike on the Donbass city of Kramatorsk on Tuesday, the Defense Ministry in Moscow said on Thursday, citing "updated data."
The ministry had earlier claimed that the strike targeted the temporary base of the Ukrainian Armed Forces 56th Motorized Infantry Brigade. Since then, the ministry has added that the base was hosting a "staff meeting" involving dozens of Ukrainian officers and foreign advisers.
The attack resulted in the deaths of "two generals, up to 50 officers of the Ukrainian Armed Forces, as well as up to 20 foreign mercenaries and military advisers," according to the Russian Defense Ministry's daily briefing.
The news came as Russian forces continue to repel Ukrainian attacks on their defensive positions in Zaporozhye Region as well as in Donbass. Ukraine has lost almost 800 servicemen in attempted assaults on various fronts over the past 24 hours, the Russian ministry claimed. It added that Russian forces had destroyed dozens of pieces of Ukrainian heavy equipment, including howitzers, armored vehicles and a tank.
Earlier this week, Kiev accused Moscow of striking a restaurant full of civilians in Kramatorsk, killing 11 people, including at least two children and injuring more than 60 others.
Ukraine's security service, the SBU, said it had arrested a local resident suspected of leaking intelligence to Russia before the alleged strike. The agency also claimed that the goal of the strike had been to kill civilians.
Russia has denied the accusations, insisting that it only hits military targets.
The developments came as several Western media outlets reported that Ukraine has suffered heavy losses in its much-touted counteroffensive, which some allies are said to have assessed as unsuccessful thus far. On Thursday, Forbes described Ukraine's losses as "disastrous" as it claimed Kiev had lost over 25 tanks and infantry fighting vehicles in just one attempt to cross a minefield.
The Financial Times reported on the same day that Kiev's Western backers have warned that further funding and support will depend on the results of the ongoing offensive. General Christopher Cavoli, NATO's top commander in Europe, reportedly said last week that Russia was still enjoying "the advantage of mass."
You can share this story on social media: