Moscow reacts to Kiev's claim that missile hit pizzeria
Russian forces do not target civilian infrastructure, the Kremlin spokesman said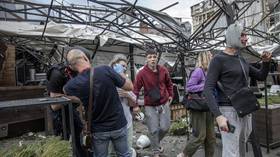 Russian officials have denied claims that its military targeted an eatery full of civilians in the city of Kramatorsk. Kremlin spokesman Dmitry Peskov responded to the accusations from Kiev by stating that Russia does not attack civilian infrastructure.
Ukraine has blamed Moscow for killing at least ten civilians and injuring more than 60 in a missile strike on Tuesday evening in the Kiev-controlled city of the Donetsk People's Republic (DPR).
Ukrainian Interior Minister Igor Klimenko claimed that two Russian missiles hit downtown Kramatorsk, with one projectile destroying a pizzeria and causing a large number of casualties.
According to Ukrainian authorities, ten civilians, including three girls aged between 14 and 17, were killed in the city as a result of the strikes, blamed on Russia, while more than 60 others were injured.
Speaking to journalists on Wednesday, Peskov asserted that Russian strikes "target only objects that are connected to military infrastructure in some way."
In its daily briefing on the same day, the Russian Defense Ministry reported striking a location in Kramatorsk, which it described as a temporary base of the 56th Motorized Infantry Brigade of the Ukrainian Armed Forces.
The Ukrainian security service, SBU, said it had arrested a local resident, whom it suspects of leaking intelligence to Russia before the alleged strike. The agency alleged that the man had sent photos of cars parked near the eatery and suggested that the goal of the strike was to kill civilians en masse.
Since the beginning of the conflict in February last year, Kiev has repeatedly accused Russia of deliberately striking civilian targets. Moscow has denied the allegations, saying that its military makes an effort to mitigate damage to civilians as it works to diminish Ukraine's military capability.
Russia has also accused the Ukrainian government of launching "terrorist attacks," including the deadly bombing of the Crimean Bridge last year and multiple assassination attempts against civilians.
You can share this story on social media: