Western services 'inspired' Wagner revolt – Russian national guard head
A barrage of "planted leaks" from Evgeny Prigozhin's camp came ahead of the uprising, the official said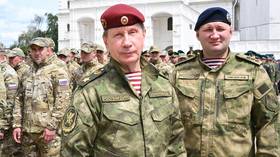 Western nations must have helped businessman Evgeny Prigozhin organize his brief insurrection last week, according to Viktor Zolotov, commander of the National Guard of Russia.
Speaking to journalists on Tuesday on the sidelines of an awards ceremony at the Kremlin, the senior official expressed certainty that the mutiny "was inspired by Western special services, because, as they said, they knew about it several weeks ahead of time."
Media reports claimed that the US intelligence community had prior knowledge about possible trouble coming from Prigozhin and his private military company Wagner Group. Washington has vehemently denied any involvement in the turmoil, which it called a domestic Russian affair.
Zolotov claimed that "Prigozhin's camp" had been deliberately leaking "focused" information about a possible mutiny coming sometime between last Thursday and Sunday. He further suggested that Western agents may have been directly involved in conducting the operation.
The mutiny began on Friday evening and dissolved the next day when Prigozhin accepted a Belarus-mediated deal with the Russian government. Wagner troops had entered the city of Rostov-on-Don and were on the move towards Moscow by the time the insurrection was aborted.
The national-guard commander said his troops were preparing for intensive battles outside the Russian capital, which would have been bloody encounters.
"At that point we were concentrating our forces at the outskirts of Moscow. If we dispersed them, [Wagner troops] could have sliced through like a knife through butter," he recalled.
Zolotov suggested that the experience proves that guardsmen should have heavier weapons at their disposal, such as tanks.
Wagner, which played a significant role in the special military operation against Ukraine, has tanks, anti-aircraft systems and even strike aircraft. The force will reportedly hand over these arms as part of the post-mutiny arrangement, which also requires any soldier that wishes to continue service to join the ranks of regular Russian units.
You can share this story on social media: