Top Russian general sends message to 'mutinous' Wagner PMC
Sergey Surovikin has called on its fighters to stand down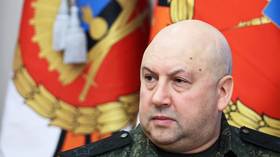 The deputy commander of the Russian Joint Forces, General Sergey Surovikin, asked on Friday the fighters of the private military company Wagner Group to stop their "rebellion" against the Russian military.
In a short video message released on social media, Surovikin said he had just returned from the front, where Russian forces were standing their ground against the Ukrainian offensive.
"I appeal to the fighters and commanders of the PMC Wagner," Surovikin said, still wearing his fatigues. "We have walked a difficult road together. We fought together, took risks together, suffered losses together, and won together. We are of the same blood. We are warriors. I urge you to stop. The enemy is just waiting for the internal political situation to worsen. We should not play into the enemy's hands in these difficult times for our country."
He urged Wagner troops to submit to the lawfully elected authorities "before it is too late," return to their barracks, and address their grievances peacefully.
Earlier on Friday, Wagner head Evgeny Prigozhin accused the Russian military of targeting one of the company's field camps in a rocket attack and killing "many fighters," vowing to march on Moscow and deal with those responsible and warning the military to stay out of his way.
The Russian Defense Ministry said Prigozhin's accusations "did not correspond to the truth" and were an "information provocation." According to Kremlin spokesman Dmitry Peskov, Russian President Vladimir Putin has been briefed about the situation involving Prigozhin and Wagner, and all necessary measures are being taken.
Russia's Federal Security Service (FSB) announced on Friday that it had opened an investigation into Prigozhin for allegedly "calling for an armed rebellion." The crime is punishable by 12-20 years in prison.
Surovikin, an Air Force general, was put in charge of the operation in Ukraine in October 2022, overseeing a major redeployment in Kherson Region. In January this year, he became a deputy to General Valery Gerasimov, the head of the Russian General Staff and current commander of the operation.
You can share this story on social media: