Ukraine could get nukes in near future– ex-Zelensky aide
Kiev may produce its own weapons in the event of a Russian nuclear strike, Aleksey Arestovich has said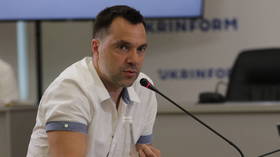 Ukraine has the ability to quickly develop and deploy nuclear weapons, Aleksey Arestovich, a former adviser to President Vladimir Zelensky, indicated in an interview released on Thursday.
Speaking to Russian activist Mark Feygin, Arestovich argued that if Moscow were to make use of its nuclear arsenal, many countries would be tempted to pursue their own nuclear arms programs, with Ukraine receiving a carte blanche in this regard. Moscow has repeatedly denied that it plans to use nukes in Ukraine or elsewhere.
When asked whether Kiev could produce nuclear weapons, the ex-adviser replied without hesitation: "It can… within a short time."
Arestovich went on to say that Ukraine would still need some time to obtain enriched uranium, a crucial component needed to make nuclear bombs, but added that "a lot of things could happen."
"Who knows where this uranium is just lying around?... You just walk and see a barrel of uranium. That's cool," he quipped.
Should Ukraine become the target of a nuclear strike, "it should be either accepted into NATO in one day… or we will create nuclear weapons, because there are no other [security] guarantees," the ex-adviser said.
Already in April, Arestovich suggested that Ukraine could develop a bomb in less than a year, but noted that it is not doing it because such a move would violate its international obligations.
After the collapse of the Soviet Union, Ukraine inherited part of its nuclear arsenal. In 1994, it signed the Budapest Memorandum, agreeing to give up its nukes in exchange for promises by the US, Britain and Russia that they would "provide assistance" to the country in case of aggression. However, in recent years, Russian officials repeatedly alleged that Western interference in Ukraine's domestic affairs had undermined the deal.
Meanwhile, in February 2022, days before the start of the Russian campaign in Ukraine, President Vladimir Zelensky signaled that restoring its nuclear status might be an option, citing the loss of Crimea to Russia. The peninsula overwhelmingly voted to join the country in 2014 after a Western-backed coup in Kiev.
Moreover, against this backdrop, former Russian president Dmitry Medvedev claimed last year that Ukrainian threats to revive its nuclear program were one of the main reasons that prompted Russia to launch its military operation.
You can share this story on social media: