Putin reveals details of draft treaty on Ukrainian neutrality
The Russian president has shown the documents from the failed peace negotiations with Kiev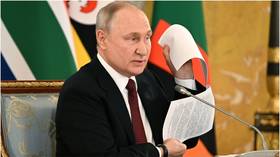 Moscow and Kiev agreed on security guarantees and the general terms of Ukrainian neutrality during peace negotiations in March 2022, but Kiev then abruptly discarded the documents its delegation had already signed, Russian President Vladimir Putin said on Saturday.
During a meeting with a group of African leaders in St. Petersburg, Putin showed for the first time the draft documents that were being discussed by the Russian and Ukrainian emissaries in Türkiye more than a year ago.
According to Putin, a document titled the Treaty on the Permanent Neutrality and Security Guarantees for Ukraine had been signed by the Ukrainian delegation.
The draft stipulates that Ukraine must enshrine "permanent neutrality" in its Constitution. Russia, the US, Britain, China, and France are listed as guarantors.
An addendum to the draft, also shown by Putin, outlines both Russian and Ukrainian proposals regarding the size of Ukraine's standing army during peacetime, as well as its equipment. Moscow proposed to cap the number of military personnel at 85,000 and the number of National Guard members at 15,000. Kiev, meanwhile, proposed that its Armed Forces have up to 250,000 troops.
Moscow suggested that Ukraine should be allowed to have 342 tanks, 1,029 armored vehicles, 96 multiple rocket launchers, 50 combat aircraft, and 52 "auxiliary" aircraft. Kiev, meanwhile, was in favor of having 800 tanks, 2,400 armored vehicles, 600 multiple rocket launchers, 74 combat aircraft, and 86 "auxiliary" aircraft.
The sides also exchanged proposals on capping Ukraine's mortars, anti-tank weapons, and anti-air missile systems, among other equipment.
The negotiations effectively broke down in the spring of 2022, shortly after Ukrainian officials accused Russian troops of killing civilians in several small cities around Kiev. The allegations were made immediately after Russian soldiers had withdrawn from the areas outside the Ukrainian capital in what the Kremlin described at the time as "a goodwill gesture." Moscow has since repeatedly denied committing atrocities in Ukraine.
Speaking on Saturday, Putin said that Ukraine was responsible for sabotaging the negotiations. "After we pulled our troops away from Kiev – as we had promised to do – the Kiev authorities … tossed [their commitments] into the dustbin of history," he said. "They abandoned everything."
"Where are the guarantees that they will not walk away from agreements in the future?" Putin said. "However, even under such circumstances, we have never refused to conduct negotiations."
The African delegation, which included the presidents of South Africa, Senegal, and Zambia, and the prime minister of Egypt, arrived in Moscow following a meeting with Ukrainian President Vladimir Zelensky in Kiev on Friday. South African President Cyril Ramaphosa presented a nine-point roadmap to end the hostilities, calling on both sides to de-escalate.
Zelensky, meanwhile, reiterated Kiev's position that negotiations can commence only after Moscow surrenders Crimea, which voted to join Russia in 2014, and four other regions that did the same following referendums in September 2022. Putin argued on Saturday that the acquisition of territories by Russia was "flawless in terms of international law and the UN Charter." He added that Moscow had the right to intervene in order to protect the people of Donbass, who opposed the 2014 coup in Kiev.
Ukraine dropped all discussions about a possible neutrality last year and has since formally applied to join NATO.
You can share this story on social media: