Russian MP wounded in Ukraine conflict – media
Pro-Kiev sources previously claimed that Adam Delimkhanov had been killed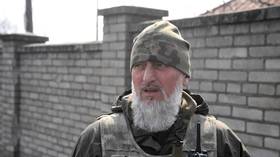 Russian MP Adam Delimkhanov has been wounded during the fighting with Ukraine, Russian media have reported, citing the press service of the lower chamber of the national parliament. Delimkhanov hails from Chechnya and is a close associate of Ramzan Kadyrov, the head of the southern region.
The statement came in response to claims by pro-Ukrainian social media on Wednesday that the MP had been killed.
The State Duma, in which Delimkhanov holds a seat representing his native region, did not immediately disclose the circumstances of his injury or his present condition.
Earlier in the day, Ukrainian political commentator Kirill Sazonov claimed in a Facebook post that Ukrainian commandos had ambushed Delimkhanov's motorcade in Zaporozhye Region. It was claimed that the attack had involved artillery shelling and led to numerous casualties.
The 53-year-old Russian official, who has been described by some as Kadyrov's right-hand man, also served as a commander for Chechen forces participating in the military operation against Ukraine. Last year, he was honored with his country's highest military decoration for his courage during the fighting in Donbass.
Fellow lawmaker Dmitry Kuznetsov said State Duma Chairman Vyacheslav Volodin had spoken to Delimkhanov, who is "alive and well" and "sends his good wishes."
Kadyrov claimed he could not contact his associate and offered the Ukrainian intelligence service a "generous reward" for detailed information about where exactly he had been attacked, "so that I could find my dear brother."
On Monday, Delimkhanov attended a ceremony at which a unit of Chechen volunteers signed a contract with the Russian Defense Ministry, formalizing the fighters' status on the battlefield.
You can share this story on social media: