German tank 'with Nazi emblem' filmed fighting in Ukraine
Footage allegedly shows a Leopard armored vehicle painted with the 'Balkenkreuz' symbol used by Hitler's Wehrmacht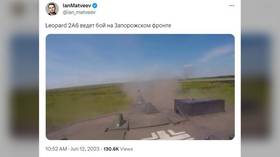 A video has emerged online purportedly showing a German-made Leopard tank with a Nazi emblem being used by Ukrainian forces in the conflict against Russia.
The short clip was published on Monday by several pro-Ukrainian accounts. According to the description, it shows the German-produced tank engaged in combat somewhere in Zaporozhye Region, a contested former part of Ukraine. The tank can be seen firing its main gun and deploying a smoke screen.
The tank's operators have apparently modified it by painting a 'Balkenkreuz' on the turret. Different versions of the symbol, also known as the 'beam cross', were used by Nazi German forces between the mid-1930s and the end of World War II.
The insignia was retired after the Nazis were defeated, and the German military currently uses the alternatively-shaped Iron Cross to identify its hardware.
Ukraine launched its long-expected counteroffensive against Russian troops last week, although its forces met with serious resistance, according to Moscow and several Western media outlets.
The Russian military claims to have destroyed a number of Western-supplied tanks and infantry fighting vehicles, which were intended to give Ukraine the advantage on the battlefield. On Saturday alone, Kiev lost four Leopard tanks among dozens of military vehicles, the Russian Defense Ministry reported.
You can share this story on social media: