Russian region recognizes Ukrainian as official language 
A local government decree in Kherson has also ruled that Crimean Tatar can be used in official communication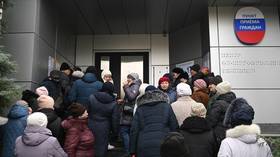 The governor of Russia's Kherson Region has announced that Ukrainian and Crimean Tatar can be used as official languages in the region, alongside Russian. Commenting on Sunday, Vladimir Saldo said Russian citizens have the right to "the free choice of language in communication, upbringing, culture, and art."
"Safeguarding people's cultural, spiritual, and historical values" is among the priorities for the government in Kherson Region and more broadly across Russia, Saldo said in a Telegram post, where he published the text of his decree on the use of official languages.
Under the ruling, public officials and government agencies can choose any of the three languages for official communications. The region's population can also choose freely, and can file requests with public officials in any of the three languages and request an answer in the same language. In the event that a public official cannot provide an answer in the specified language, the response will be given in Russian, the decree added.
Kherson Region joined Russia along with the neighboring Zaporozhye Region and the Donetsk and Lugansk People's Republics in autumn 2022, following a series of referendums.
In April, Russia's Education Ministry said that students in the four new regions will be able to study Ukrainian as their native language or as an additional course. The ministry also said it had developed a new Ukrainian language textbook for elementary school students. The final decision in the field of education will rest with the regional authorities, the ministry said at the time.
On June 3, the acting head of the Donetsk People's Republic (DPR), Denis Pushilin, said that the Ukrainian language would not be taught in the region's schools in the next academic year as no classes had chosen it as an additional course. The acting governor maintained that the language is not banned in the region, but insisted that students there simply do not want to study it.
The DPR and the neighboring Lugansk People's Republic have been in conflict with Ukraine since 2014, when they refused to recognize a violent coup in Kiev and declared independence.
Meanwhile, Ukraine has continued its crackdown on the Russian language inside the country. In February, the ombudsman in charge of protecting the Ukrainian language, Taras Kremen, argued that speaking Russian should be prohibited on all Ukrainian university campuses.
In January, the renowned Kiev-Mohyla Academy (NaUKMA), one of the oldest universities in Ukraine, officially forbade students and educators from using Russian within its grounds. Kiev passed a law stating that Ukrainian was the only language that could be used in the education process back in 2019.
Moscow has repeatedly denounced such policies, arguing that the "forced Ukrainianization" of the country violated international norms and infringed upon the rights of Ukraine's native Russian speakers, who make up around a quarter of the population.
You can share this story on social media: