Russian navy rebuffs Ukrainian drone attack – MOD (VIDEO)
The targeted vessel avoided damage in the incident and continued its mission, Russia's Defense Ministry says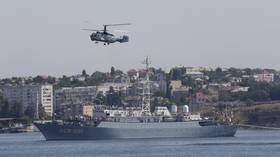 A Russian warship has repelled an attack by six Ukrainian naval drones in the southeastern part of the Black Sea as it patrolled the TurkStream and Blue Stream gas pipelines in the early hours on Sunday, Russia's Defense Ministry has said.
The incident involving the Russian Black Sea Fleet's Priazovye intelligence-collection ship happened at 1:30am Moscow time (10:30pm GMT), the ministry said in a statement.
All six "naval unmanned speedboats," which the Ukrainian military used to target the vessel, were destroyed by the Priazovye's weapons, it added.
"There were no casualties. The ship didn't suffer any damage," the statement continued, noting that the Russian vessel had continued with its mission.
According to the ministry, a US Air Force RQ-4B Global Hawk strategic reconnaissance UAV was conducting surveillance in the central part of the Black Sea at the time of the failed attack.
It also released a video of the Russian vessel repelling the attack by the Ukrainian naval drones.
TurkStream and Blue Stream are gas pipelines that traverse the Black Sea and deliver Russian gas to Türkiye.
In late May, Russian reconnaissance ship Ivan Churs, which was on a similar mission to Priazovye, was attacked by three Ukrainian drones some 140km (86 miles) to the northeast of the Bosporus Strait. All of the incoming unmanned speed boats were also destroyed by the ship's gun, according to the Defense Ministry.
Last September, the Nord Stream 1 and 2 gas pipelines, which connected Russia and Germany through the Baltic Sea, were destroyed by a series of explosions.
The attack on Priazovye comes shortly after Ukrainian President Vladimir Zelensky confirmed that Kiev has been performing "counteroffensive actions" along the frontline with Russia.
Moscow has been saying that the long-delayed counteroffensive by Kiev has been underway for a week now, but has so far been unsuccessful, with the Ukrainian forces suffering significant losses in manpower and hardware, including Western-supplied Leopard 2 tanks and Bradley fighting vehicles.
You can share this story on social media: