NYT outlines what Ukrainian counteroffensive 'success' means in the West
US and EU officials concede that Kiev reclaiming all territories lost to Russia is "highly unlikely," the paper claims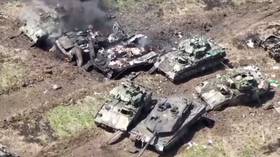 The West would consider Ukraine's counteroffensive a success if Kiev were to retake key areas lost to Moscow or deliver a "debilitating" blow to Russian forces, the New York Times has reported, citing US and EU officials.
"Much rides on the outcome" of the counteroffensive as it will likely impact further Western military support for Ukraine and future discussions on security guarantees for the country, the US paper said in an article on Saturday.
Publicly, US and EU officials claim it's up to Ukrainian President Vladimir Zelensky to decide what to define as a success in the long-awaited operation, the NYT noted.
Zelensky previously said he wanted his forces to win back all land lost to Moscow, which includes Russia's newly incorporated territories – the People's Republics of Donetsk and Lugansk, and the Zaporozhye and Kherson Regions – along with Crimea, which became part of the Russian Federation in 2014 following a referendum, launched in response to a coup in Kiev.
"Privately, US and European officials concede that pushing all of Russia's forces out of occupied Ukrainian land is highly unlikely," the NYT wrote.
Two main outcomes are being discussed in the West as ideas of a success in the counteroffensive, according to the paper. The first is that "the Ukrainian army retake and hold on to key swaths of territory previously occupied by the Russians," and the second is if Kiev's troops deliver "a debilitating blow that forces the Kremlin to question the future of its military options in Ukraine."
On Thursday, news website Politico reported that the White House was "anxiously watching" the progress of the Ukrainian counteroffensive, as administration officials believe President Joe Biden's reputation depends on its results.
Kiev was expected to launch a major counteroffensive at some point in spring, having been supplied with Western armor intended for the task, but the operation has been delayed on numerous occasions.
On Saturday, Zelensky finally confirmed that Ukrainian "counteroffensive actions" were underway. This followed a week of intensified attacks on Russian fortified positions across the frontline by Kiev's troops. They involved German-made Leopard 2 tanks and US-supplied Bradley fighting vehicles, some of which were lost in a widely reported setback near Zaporozhye .
President Vladimir Putin said on Friday that Russia's military has so far prevented all attempts to advance by Ukraine. Kiev's forces have been suffering far heavier casualties in those failed attacks than the "classic" three-to-one ratio often expected during offensive operations, Putin insisted.
You can share this story on social media: