Another sports federation readmits Russians and Belarusians 
World Rowing has reversed its blanket ban following the recommendation of the International Olympic Committee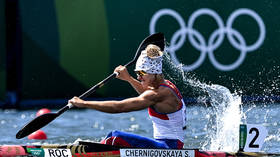 The international governing body for rowing has opted to grant Russian and Belarusian citizens limited participation in events under its auspices. Russia's national rowing federation said it needs to review the terms before deciding whether to accept them.
Like many other international sports bodies, last year World Rowing banned all holders of Russian and Belarusian passports from competitions after the hostilities in Ukraine broke out. Now, however, it has reversed course and joined the recent trend of allowing them to compete again. This comes after the International Olympic Committee (IOC) in late March came to the conclusion that its previous recommendation for a blanket ban had been discriminatory.
"Facing a highly complex situation, I believe we have found a solution that allows Rowing to play its role in building bridges between people and nations," President Jean-Christophe Rolland said of the executive committee's decision, according to a statement released on Wednesday.
The athletes will have to compete as neutrals with no national symbols and will be subjected to a thorough background check to ensure that they are not associated with the military and did not publicly support their governments in the Ukraine conflict, World Rowing decided.
They will also face an "enhanced anti-doping control process." Also, some parts of events involving larger teams will remain unavailable to them.
Russia's national rowing federation said it had been expecting the announcement but was unhappy with the quotas.
"Sure, a window has opened, but only a handful of people will be able to participate in the World Championships," the federation's president, Aleksey Svirin, said. "The final decision on whether we will agree to this story will be taken collectively by athletes and coaches."
Ukraine and nations supporting it against Russia have been pushing against the readmittance of Russian and Belarusian athletes. In April, the Ukrainian Sports Ministry banned the country's national teams from competing against athletes from the two countries in international events. Some sports bodies in the EU have refused to host events organized under the new rules.
You can share this story on social media: