Russia strikes Ukrainian airfields – Defense Ministry
Kiev's aircraft, radar installations and ammo depots have been hit, the Russian military says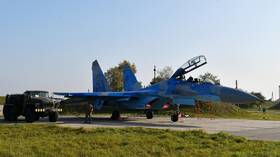 Russia conducted airstrikes overnight targeting Ukrainian military airfields, and delivering significant damage to aircraft and facilities, Moscow's Defense Ministry has said.
The attack, which was carried with the use of "long-range precision-guided air-launched weapons," achieved its goal, the ministry said in a statement on Sunday.
"Command posts, a radar installation, Ukrainian aviation equipment, and storage facilities with weapons and ammunition were hit," the statement read.
In another strike, near the city of Dnepropetrovsk on the Dnepr River, a Ukrainian drone assembly workshop was destroyed, the ministry said.
Over the past 24 hours, Russian air defenses have shot down two UK-supplied Storm Shadow cruise missiles, 14 rockets fired from US-made HIMARS and Soviet-era Uragan multiple rocket launchers, as well as two Tochka-U tactical missiles, fired by the Ukrainian forces, according to the statement.
A total of 21 drones have also been intercepted in Russia's Donetsk and Lugansk People's Republics, the country's Zaporozhye and Kherson regions, and over the Black Sea, the ministry added.
You can share this story on social media: