Court rejects appeals from Russian 'foreign agents'
A journalist, a comedian and a musician had requested to be removed from the register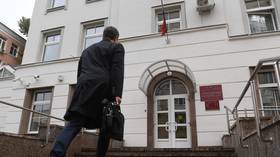 Moscow's Zamoskvoretsky Court has officially dismissed the requests of three Russian celebrities to be removed from the national register of "foreign agents."
Russia's Justice Ministry designated them as such for allegedly being influenced by or receiving funding from abroad, and for publicly criticizing the Russian army's role in the Ukraine conflict.
The three individuals taking the case are comedian and TV host Maxim Galkin, journalist and video blogger Ilya Varlamov, and musician and comedian Semyon Slepakov. Last month, all three submitted petitions to have their names removed from the "foreign agents" database, and argued that such a designation was "illegal" as it infringed their right to free speech.
On Friday, the judge presiding over the cases refused to satisfy the claims of the three plaintiffs.
Galkin was placed in the database back in September for "carrying out political activities" and allegedly receiving support from abroad, specifically Ukraine. The artist's legal defense argued that he was not a political figure, and that his speeches were political satire. His lawyer also stated that Galkin's performances abroad cannot be considered support from foreign sources.
A representative of the Justice Ministry, however, insisted that the comedian was under foreign influence and that his social media posts, in which he condemned Russia's policies and military operation in Ukraine, as well as his topical speeches during his concerts, constituted political activity.
Varlamov, a popular blogger in Russia, was labeled a "foreign agent" in late March after he was accused of disseminating false information about the government and its policies, as well as receiving support from foreign sources.
Similarly, Slepakov was added to the register on April 14, after the Justice Ministry accused him of receiving foreign support and publicly criticizing the military operation in Ukraine. He was also accused of encouraging a negative attitude towards the military and civil service in general, and speaking negatively about Russian people.
Adopted in late 2012, Russia's foreign agent law allows for the labeling of individuals and non-profit organisations that engage in political activity and accept money from abroad.
While the designation itself does not automatically lead to civil or criminal penalties – unlike the US law it was modeled on – those affected must deal with onerous reporting requirements and are barred from holding public office, carrying out any sort of political activity and organizing public events, among other things. Individuals and organizations that fail to adhere to the law may face hefty fines and potential criminal liability.
You can share this story on social media: