Navalny to be branded 'foreign agent' – activist
The Justice Ministry has allegedly been asked add the jailed public figure to its list of individuals and entities being sponsored from abroad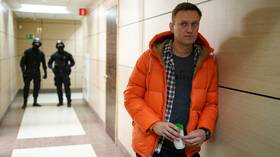 The Russian Prosecutor General's Office has requested that opposition figure Alexey Navalny be formally designated as a "foreign agent," social activist Vitaly Borodin has claimed.
Speaking to RT Russian, Borodin, who is head of the Federal Project for Security and the Fight Against Corruption, stated that the Justice Ministry would now examine the request.
Borodin said he was confident that Navalny, who formerly led the Anti-Corruption Foundation (FBK), would be included in the register in the near future.
He also claimed that the opposition activist "still publishes comments and videos on his social networks that discredit the special military operation [in Ukraine]" and the Russian authorities.
Navalny is serving a nine-year sentence in a Russian prison after being found guilty of defrauding the Russian subsidiary of French cosmetics manufacturer Yves Rocher out of millions of rubles.
Despite being incarcerated, the activist has continued to send messages to the outside world through his lawyers, who visit him on a regular basis. Navalny's comments are then published on his social media channels by members of the FBK team.
Borodin stated that if Navalny were to be officially designated as a "foreign agent," he could be hit with hefty fines in the event of further violations, or face further criminal prosecution. It would also be possible to "raise the question of closing all of his social networks," Borodin added.
Adopted in late 2012, Russia's foreign agent law allows for the labeling of individuals and nonprofits that engage in political activity and accept money from abroad.
While the designation itself does not provide for civil or criminal penalties – unlike the US law it was modeled on – those affected must deal with onerous reporting requirements. Individuals and organizations that fail to adhere to the law may face hefty fines and potential criminal liability.
You can share this story on social media: