Ukrainian 'terrorist' attack thwarted – Moscow
Two of Kiev's infantry mechanized teams attempted to cross into Russia's Belgorod Region, the defense ministry has claimed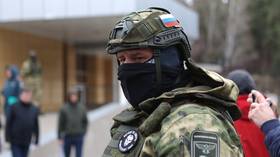 Russian forces have repelled an attempt by Ukraine to carry out "a terrorist act" against a settlement in Belgorod Region close to the border, the defense ministry has said.
The Russian military, together with border guards and other units of the Federal Security Service (FSB), "thwarted a new attempt by the Kiev regime to carry out a terrorist act against the civilian population of the town of Shebekino," the ministry said in a statement on Thursday.
At around 3am Moscow time, two Ukrainian motorized infantry companies, reinforced by tanks, tried to cross into Russia near the settlement of Novaya Tavolzhanka and the Shebekino border checkpoint, according to the statement. The attempted incursion followed intensive shelling of the area from the Ukrainian side of the border, it added.
Three attacks by "Ukrainian terrorist groups" were repelled by Russian troops, the ministry said. Kiev's units "suffered significant losses and were driven back… The violation of the state border was not allowed."
The Russian Air Force carried out 11 airstrikes, while the artillery performed 77 fire missions against the approaching Ukrainian units. Heavy flamethrower systems were also used on two occasions, according to the statement.
More than 30 Ukrainian "terrorists", four armored combat vehicles, a Grad multiple rocket launcher, and a pickup truck were destroyed as a result of the failed incursion, the ministry said.
Shebekino, which is located approximately 20km (12.4 miles) from the Russia-Ukraine border, has been the subject of increasingly intensive strikes from the Ukrainian side this week. On Thursday, shelling in the area left eight people injured, Governor Vyacheslav Gladkov said. He added that Kiev's forces had not been allowed to cross the border. He promised to evacuate civilians, saying that several hundred women and children would be relocated by the end of the week.
On Tuesday, a civilian was killed and several others wounded in Shebekino as more than 200 projectiles were fired at the town and nearby locations, according to Gladkov.
Last week, a Ukrainian saboteur group carried out an incursion into Grayvoronsky District in Belgorod Region. They were able to overrun several villages, but were swiftly pushed back to the other side of the border by the Russian military, suffering heavy losses. The attack left one civilian dead and several others wounded.
The Russian regions of Belgorod, Bryansk and Kursk, all of which border Ukraine, have been the targets of numerous drone and missile attacks by Ukrainian forces since the outbreak of the conflict between Moscow and Kiev in February 2022. The strikes have targeted energy infrastructure and residential areas, resulting in several civilian deaths and many injuries, as well as destruction of property.
You can share this story on social media: