Civilians wounded by overnight attack on Russian city – governor
One person has lost a limb in shelling by Ukrainian forces, a top regional official said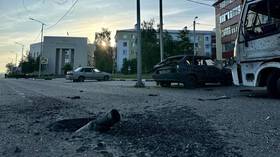 At least two people were injured in Kiev's latest attack on the Russian city of Shebekino, located near the Ukrainian border, Belgorod Region Governor Vyacheslav Gladkov said in the early hours of Thursday.
"The shelling by the Ukrainian Armed Forces lasted for an hour," the governor wrote on his Telegram channel.
Gladkov said a man had lost the "left upper limb" and is now in critical condition while another person suffered a concussion.
The governor later added that air defenses were activated in response to a threat.
Shebekino, which is located around 20 kilometers (12.4 miles) from the Russian-Ukrainian border, has repeatedly come under artillery and rocket fire since Moscow launched its military operation in February 2022.
More than 200 projectiles were fired at the city and the surrounding areas on Tuesday alone, killing one person and injuring two, according to the governor.
Earlier in May, armed units from Ukraine carried out an incursion into Belgorod Region, briefly overrunning several villages.
The so-called Freedom of Russia Legion and the Russian Volunteer Corps (RDK), two organizations made up of Russians fighting for Kiev, claimed responsibility for the raid.
The constant attacks have prompted local authorities to initiate the evacuation of hundreds of children to other Russian regions.
You can share this story on social media: