Ukrainian drone attack being assessed as war crime – Kommersant
Russia's investigative committee reportedly believes the Ukrainian government sought to sow panic in Moscow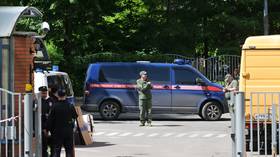 Russian authorities are treating Tuesday's drone attack on Moscow as a war crime, Russian daily Kommersant has reported, citing sources familiar with the process. A unit specializing in combatting war crimes, genocide and rehabilitation of Nazism, is working on the case within the country's investigative committee, the newspaper added.
In an article published on Tuesday, Kommersant sources claim a criminal probe had been launched into what is being classified as a terrorist attack by the Ukrainian government. The presumed motive was to spread panic among Moscovites.
The special war crimes unit tasked with probing the UAV raid has previously investigated instances of Ukrainian shelling of the Donetsk and Lugansk People's Republics, as well as recent Ukrainian sorties into Russia's Bryansk and Belgorod regions, the outlet reported.
According to Russia's Defense Ministry, a total of eight drones were detected in Moscow's airspace on Tuesday morning.
Three of those UAVs were suppressed by electronic warfare measures and diverted from their intended route, while the other five were downed by Pantsir-S air defense systems, officials have revealed.
Several residential buildings sustained superficial damage and two people suffered minor injuries as a result of the raid.
The ministry characterized the incident as a "terrorist attack" at the hands of the "Kiev regime."
Russian President Vladimir Putin echoed that assessment, adding that the Ukrainian government's main goal was to "intimidate" Russian citizens.
He also revealed that the Russian military had targeted the headquarters of the Ukrainian military's Main Intelligence Directorate (GUR) in Kiev several days prior. According to Putin, the Ukrainian authorities might have staged the drone raid to avenge that particular strike.
You can share this story on social media: